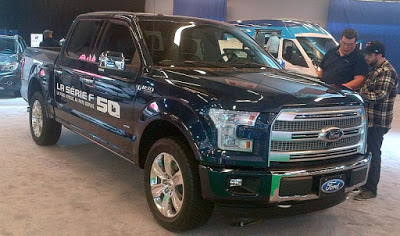 As you are undoubtedly aware, Ford has been known for a long time to make some of the best pickups around. In fact, it's F-Series has repeatedly come on top when it comes to the truck market. It's looking like 2017 will be no different, either. After a rather shaky start, thanks to some false news about rolling delays, the 2017 F-150 has already started to ship out. Before we get our hands on those, however, we're going to look at the 2016 model and just why the F-Series got so darned popular.
Under the hood
A pickup truck, especially one boasting the kind of towing power as the F-150 does, needs a powerful engine. Eyebrows were raised at first at the inclusion of a 2.7-liter Ecoboost V-6. Especially in comparison to the 6.2-liter V6 of earlier models. But the change to a seemingly pitiful engine isn't as damaging as you might expect. For one, it's a lot lighter without sacrificing any of the safety or reliability the brand is famous for. In a test pitting it against a supercharged 5.0L V8, it got a faster 0-60 at 5.8 seconds and a matching top-speed at 106 mph. Nice to see a bold new decision pay off once in a while, isn't it?
On (and off) the road
So, it didn't sacrifice any power, but how did it handle on the road? For two years now, Ford V-150's have seen a change in handling too. Electric power steering takes the lead, leaving air suspension and rear coil springs in the dust. It offers an incredibly smooth ride up to moderate speeds, surprising for a vehicle of its capability. Higher than that, it's a little less adept at hiding its true colors. Off-road, it's just as able and even more able with an FX4 off-road package with protective skid plates helping maneuver even the most treacherous and surprising of terrain. Even without them, it's still able to handle a wide range of terrain with the kind of standards in safety we've come to expect of Ford trucks
Fan power
One of the best things about the 2016 F-150, and the F-Series in general, is the people behind it. As we've mentioned, the F-Series has held itself firmly at the top of the trucking game. Because of that, it has a market of add-ons and replacements that can help you customize the vehicle to make it even more of a beast. Some parts for a Ford F150 worth looking at include improved lighting, fender flares, and better suspension packages. If you're a hobbyist, an F-150 is more than a car. It is a decade's worth of optimizing just waiting to happen.
It's clear that the F-Series likely isn't going to drop its hold on the market anytime soon. Reliability, power, safety, and versatility are all part of the package. Not to mention a following the means your options for the F-150 are almost endless. Now, we can only cross our fingers and hope 2017's model meets our raised expectations.