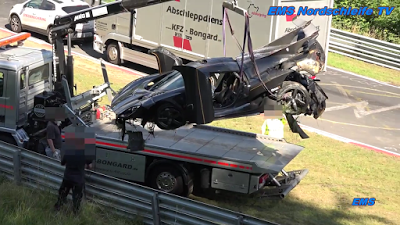 Ok, we admit, it's a little bit childish getting excited about seeing beautiful works of art reduced to crumpled piles of junk. But the world appears to obsess over supercar accidents as much as they do over supercar launches. So to fit with the crowd, we have pulled a list of some wild accidents which, thankfully, didn't result in any serious injury.
In the UK there is a pretty awesome event called Goodwood Festival of Speed. It's a hillclimb which heads straight past the front door of Lord March, through his garden and to the top of his estate, where there is a separate rally stage. The crowds get the chance to see cars of all types up close and personal. Plus there are some pretty awesome stunt teams who impress audiences with feats of daring do.
Back in 2012 a British racing driver and UK journalist were heading up the hill on a show run. A low speed crowd pleaser. However someone forgot to hit the switch on the driver and he got the red mist. This resulted in him ploughing the Gumpert Apollo the duo were in, straight into the circuit barriers. It took an hour to extract the passenger and the car suffered over £100,000 of damage. Due to the fact this event was taking place on a road and not a racetrack, the journalist was contacted by a car crash attorney and ended up in a controversial lawsuit.
Funnier still, the same journalist ended up back in the media the following year when her mobile car cleaner crashed one of her clients cars. Not just any car, a brand new Ferrari 458. According to the journalist, he was taking the car back to storage when he just lost control. Hmmm. Sounds a little suspicious to me, maybe he was just drying it off. Needless to say that company were out of a job pretty quickly, hope they had good insurance!
Of course there are other people who have car accidents, they aren't all related to one journalist in the UK.
Over in Germany at the infamous Nurburgring, one of the rarest supercars on earth was totally wrecked. The Koenigsegg Agera One:1 was one of only 7 of these cars built and worth over £4,000,000. According to reports its brakes failed and the car lost control. The driver, incredibly, was taken to hospital as a precaution but released the same afternoon. Just goes to show how strong the cockpits of these remarkable cars are!