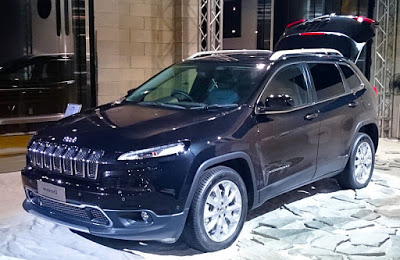 Back in the day, Jeep was a brand synonymous with class and powerful, practical vehicles. But, they've dropped off a bit and let other manufacturers come in and steal their spot as the top dog in the SUV class.
However, with the introduction of a new Jeep Cherokee, do they finally have a serious contender to snatch back the SUV crown? We spent some time with the car, and compiled our thoughts here:
Drivability
One of the main things to judge a car on is its drivability. How does the Cherokee feel when you're behind the wheel? Is it comfortable, does it feel safe, and do you get enjoyment out of it? The Cherokee is a decent car to drive and does pack a bit of a punch with over 200bhp. Put your foot down on the highway, and you can go pretty quick too, it's brilliantly comfortable on long journeys. Take to the more confined city streets, and it handles very well considering its size. With some great safety features built in, the Cherokee is easy to drive, and you feel in control when you're at the wheel. Plus, as it's a Jeep, you get great off-road capabilities as well. So, if you fancy taking your car on a little trip away from the tarmac, the Cherokee handles other terrains with ease. All in all, very impressive on the drivability front.
Value For Money
In general, most SUVs represent quite incredible value for money. When you think about it, you get a vehicle that provides lots of storage and great capabilities, for a tad more than a small hatchback. Specifically, the Jeep Cherokee is about as good value for money as other SUVs on the market. If you went to a Jeep dealer and picked the cheapest model, then there's only really the Mazda CX-5 and Hyundai Tucson that are cheaper. At the other end of the scale, you can get a fully kitted out Cherokee that will cost a lot more than the basic version. Again, it still fits in with the price range of other top SUV's out there. So, you do get good value for money with this car, and it provides you with everything you need from an SUV.
Looks & Design
Finally, we look at the appearance and design of the car. Visually speaking, the Cherokee is interesting to look at. There's something futuristic about its design, and it's very sleek too. It more than stands up to the competition in the looks department, put it that way. The interior is typically brilliant, and everything looks extremely high-quality, from the dash to the seats. Speaking of the interior, is there much room? Like most Jeeps, the new Cherokee is full of room in the back for kids, and there's even enough legroom for adults back there too. Plus, there's a lot of room in the trunk too.
After spending some time with the new Jeep Cherokee, you get a good feel for the car. It's very nice and incredibly safe, but you just feel like there's something missing. It perhaps doesn't provide the perfect blend of thrills and safety like a lot of other SUV's do. Having said that, it is a great car and comfortably slots into the top 5 SUV's on the market today.