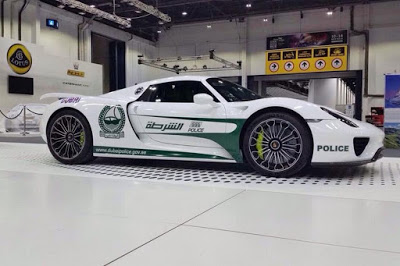 Dubai has transformed into one of the wealthiest cities in the world, but it's also home to some of the world's most insane supercars and sporting vehicles. The rich and the wealthy own multiple sports cars and it's not unlikely for them to turn up abandoned in the middle of the city. Could you imagine that? Walking through a parking lot and seeing a Maserati or Lamborghini gathering dust? It's surreal for the rest of us in the world, but Dubai has become somewhat of a dumping ground for expensive vehicles.
Fortunately, not all expensive supercars are treated in the same way. For instance, Dubai's police force has a fleet of vehicles that comprises of some of the world's finest supercars and SUVs. In this article, we're going to take a look at just a few of those vehicles to showcase how insane you'd have to be to consider running from the police in Dubai.


Brabus G 700
If you're planning to shake the police in your off-road vehicle by heading to the arid deserts of Dubai then think again. While their supercars might not have a great time chasing you down in the sand, their Brabus G 700s will have no trouble following you to the ends of the earth and tracking you down. Thinking about shaking them off at night? It doesn't take much work for them to install some light bars for trucks to give them extra vision to hunt you down. In short; don't try to shake them off in the desert, you'd be making a big mistake!
McLaren MP4-12C
This is sheer insanity. Although the McLaren MP4-12C isn't the fastest production car ever made, it's certainly one of the fastest with its twin-turbo 3.8 L V8 engine that develops approximately 592 horsepower. It's capable of speeds of over 200 miles per hour, making it an extremely fast supercar that will chase you down through the bustling streets of Dubai. If you plan to run from one of these, then make sure you've got something equally as fast!
Porsche 918 Spyder
This eco-friendly hypercar was on display at the Dubai International Motor Show in 2015, adding to the already insane lineup of supercars that are used by Dubai's police force. The Porsche 918 Spyder sports a 4.6 L V8 engine that can develop 608 horsepower, but it also has two additional electric motors that deliver an extra 279 horsepower for a combined output of 887. It can reach up to 210 miles per hour and only 981 of these have ever been manufactured. The starting price put the Porsche 918 Spyder at roughly US$847,000, making it perhaps one of the most expensive vehicles to ever grace a police force in the world.
So if you're planning to ever visit Dubai and commit a crime—think again! Not only are you going to be hunted down in the streets by supercars like a Fast and Furious movie, you're going to get chased with off-road vehicles if you ever run into the desert. In short, there's no escaping the police force in Dubai thanks to their fleet of supercars.