So, you're in the mood for a new project and feel like getting your hands a little more dirty than you do washing your brand new BMW M3. If you want something with some character, soul, and a history of knowing what to do on the open road; a vintage sports car might be the option for you. However, if it's a project you're after; you'll probably want to restore something, and bring that motor up to your standard, either to resell or to enjoy cruising in on the weekends. The following are some things to consider when it comes to giving a new lease of life to an old classic that's seen better days.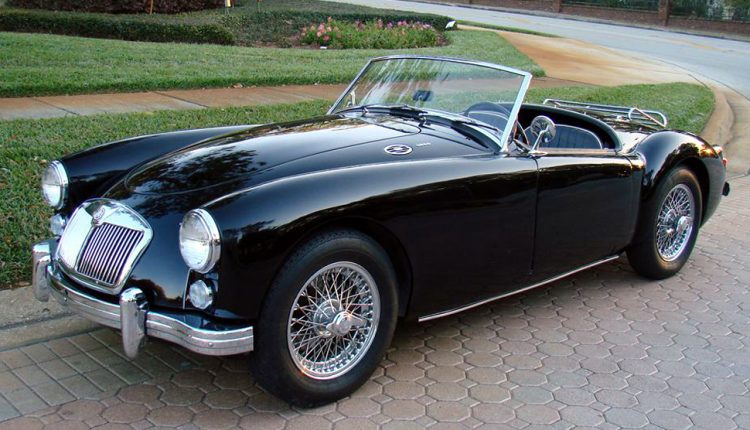 Find Your Project
You need to figure out the level of restoration work that you're willing to do so that you can choose a vehicle accordingly. If you're in it for the long haul; you can find the bare bones of a potentially beautiful car, at reasonable prices. However, if you're a first-time mechanic; you might want to source a partially restored sporty number or something that just needs some TLC. Bear in mind; the less you have to do to the car, the more you'll have to pay for it, and vice versa.
Be patient; you car is out there somewhere, but it's worth holding out for the right one, especially as you'll be investing so much time and money into it. Continue reading through your car blogs (thanks for stopping by) and motor magazines to see which classic car you'd ideally like to head towards, and get a picture in mind of what you want to end up with. You car-related publications and websites will also provide you with all the classifieds you could hope for. Therefore, you'll have better luck finding something if you've narrowed down your criteria from the get-go. So head on to auction websites, advertisements, and dealerships with a thorough list and a price in mind, that way you won't make any regrettable decisions on what you buy.
You're a car enthusiast already, so use your knowledge to understand what you're after and when a deal is a no-go. If you're a little rusty on classic cars; talk to those who know more than you do, or better yet, people that have been successfully restoring beautiful vehicles of their own. If you like and appreciate somebody's work; go and spark a conversation and get some insider knowledge of where to buy from.
Once you've found your dream run-around; make sure that you get the relevant checks before you sign anything and take it home. Again, you're about to put a lot of effort into this vehicle, so you don't want to deal with legal and safety issues further down the road.
Get The Right Parts
Sourcing the right parts for your vintage beauty can be the best, and also the most frustrating bit. You will constantly be taking into account both function and aesthetics, not to mention how authentic you want the final result to be. It's best to start with the functional parts first so that you've covered each key area and your car will drive like a dream by the time you've finished. Take your time to source everything, whether it's the best windshield wipers that you can find, or the finest car upholstery specialist in the country; it'll be worth the investment.
Have a qualified mechanic check over each stage you complete; obviously, your car won't be taking you very far if the engine isn't working, so take that into account. Again, you'll be able to find authentic car parts for most of the sections of your vehicle; however, learn when to give up looking for something, and use an alternative. You can always replace things again further down the line if you've found an original piece that's made for your car.
Hopefully, there will still be parts that can be salvaged and reused, and they'll just need some love and attention. However, you'll be able to find other original items from car salvage yards and online dealers; so start looking around and research into who's reputable and who to avoid.  Getting clued-up you on what you'll be able to purchase and restore, will help you to avoid disappointment during your project.
The Restoration Process
You'll need to know where your abilities lie, and when to call in the help of a professional mechanic. When it comes to your motor's engine, brake system, and all the other technical areas that you need to be trained in; know when to take it to the garage, for the sake of you and your vehicle. Mechanics are just as enthusiastic, if not more so, as you are about automobiles, so trust that they'll do a good job, no matter how many trips down to the garage it may take.
If you're brave enough to take on the challenge yourself; you'll need to be set up properly to complete the task. You'll want a covered, weatherproof area for your vehicle to live while you fix it up; water and cold can cause permanent rust and damage, so make sure the car is kept dry at all times. A car cover, or sheet, is an added way to protect it further from any dents or scratches.
It's time to talk to those buddies you made, who know their stuff when it comes to restoring a classic car; ask them exactly what tools and equipment you'll need so that you can prepare yourself for the job ahead. Once you've surrounded yourself with the right tools, and are in your garage space; you can begin the work. Start with the main body of work and go from there; call in the professionals when needed, and give yourself about a year to complete the job. You might also want to put some cash aside for a professional paint job at the end of the project, so you can have that racing-green 1966 Jaguar you've always dreamed of.