Every sports car manufacturer has that one model that brings about a renewed interest, a car that took their dwindling badge and cast it into the limelight, a car that produces something so special that entire streets stop to admire it, collectively jealous of the smile being worn by the driver. Well, for Maserati, that is the Ghibli, a car that has every right to drag this company away from being an obsidian quagmire that fails to trap many consumers and turn it into a motoring powerhouse. This is Maserati's answer to the Lotus Elise and the Aston DB7 for one simple reason: it is the resurgence it needs.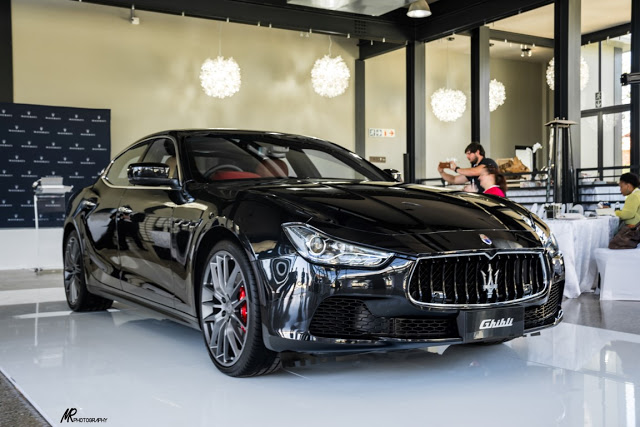 Of course, Maserati isn't pinning all of their hopes (and growth plans) on this one model because they also have the new GranTurismo, Quattroporte and Levante, but the Ghibli is most definitely the spearhead in this new attack of theirs.
What is perhaps a little bit odd to get used to, especially given Maserati's pedigree and panache for producing super sports cars, is that their most popular car is now a four-door executive saloon that goes up against the BMW 5 Series and the Merc E-Class. If there is one thing for sure, though, it is the Ghibli beats both of these rivals on looks, especially in the flesh.
So, what is it like on the road?
It isn't just the fact this car is Maserati's first real step into mainstream, executive life, it is also their first venture into the world of diesel. But before you start shouting sacrilege and start storming their headquarters with pitchforks, just take a breath, because the rumble produced by this V8 will have you smiling again, trust us. It really does produce a juicy amount of oomph, something that is wonderfully complimented by the 50-50 weight distribution and proper mechanical diff. Of course, if heading down the diesel route really isn't your thing then you can grab the much more authentically Italian option: the 325 bhp V6 petrol. What we really love about this driving experience, though, is the amazing 8-speed automatic gearbox that really gives you what you want. As for ride comfort, meh (by which we mean there is a little room for improvement).
How about the safety rating?
When you think about the safest cars on the road, chances are you mind pictures a Volvo or maybe an Acura. But over recent years, the IIHS has come to name the Maserati Ghibli as their safe car pick, which is great news for anyone that is – quite rightly – worried about getting injured in a car wreck. In fact, it received the very highest possible rating of "good" in every single test they have – side impact, front moderate overlap impact, roof crushing and, even, rear impact crashes. This is words any potential buyer wants to hear, especially given that this executive beast can carry up to five people and hit 62mph in 5.5 seconds. We're not saying you have to drive fast because you have a car that will allow you to do it, but if you have a phone you're likely to use it, right? So, yeah, it is better to know that you can enjoy the Ghibli's offering with a safety record like it is.
What's the interior like?
For the price, part of you will desperately pine for a seriously high-quality offering, and you do indeed get a gorgeous offering. But the other part of you will also want it to have that unique styling that Maserati has become almost known for, that distinct character, which it totally delivers on. There's frameless glass in the doors, armchair seats that you sink into, stunning leather trim and an eight a half inch infotainment system that is logical, responsive and easy to navigate while on the move, which is exactly what you want. Unfortunately, the rest of the interior loses out against the competition because it just doesn't have that luxe or exclusivity that they offer. The driving position is also ideal for everything lining up nicely for the person in control. There is a slight visibility issue when it comes to looking over your shoulder, but this is more than made up for by the parking sensors and three-sixty degree cameras.
And how does the space fair?
If you are driving or riding shotgun then you are going to be living a life of luxury. However, if you didn't manage to win the game and end up in the back seats then you are going to be experiencing a very different story. Three adults in the back will be a squeeze, which is what a lot of cars suffer from. But even two adults will find the legroom rather uncomfortable, especially if the two up front are anywhere near or over the six-foot mark. That isn't all, though, because the Ghibli also has that beautiful, yet impractical, swooping rear window line which makes life in the back rather claustrophobic for adults. However, if we're talking about kids, then this car is going to offer you all the space and comfort you could possibly hope for. Sort of. That's because its rivals offer that much more in terms of back seat space and, yes, boot space too. It's a huge car, yet somehow the boot is strangely compact. Then again, Maserati's have never-ever been celebrated for their space-offering or efficiency.
What is our verdict?
This car is something that is going to please you every day as an owner because you'll get the ultimate driving experience in a sports car that does a realistic 48 miles per gallon (in the diesel). That's an amazing feat. The challenge that you may have is the depreciation. Unfortunately, we don't know what this is going to be like. All we can do is hope that it holds the value that it is worth which, in our eyes, is a lot. If we had to choose one of the offerings, though, we would choose the five door, V6 diesel automatic absolutely every time. Every time. And we wouldn't regret our decision, even if we saw a 5 Series drive past.