Carports are different from garages in that they are only a story in height and have to be open on two sides at least.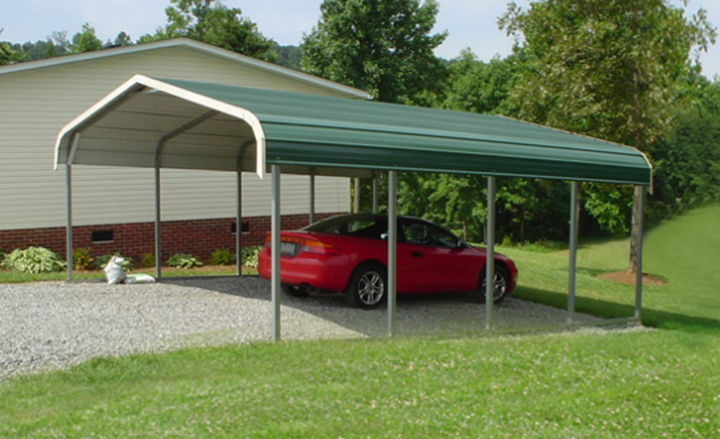 Metal carports are often bought by those looking for a way to protect their cars who lack enough space in their garage(s). Carports are much cheaper than garages, and are also incredibly easy to set up.
At the same time, there are a wide variety of different carport types and specifications, and the specific one that you need to get depends largely on the type of vehicle that you own.
Here are the top five tips for finding the right type of carport for your car:
What Is The Function Of The Carport?
 First and foremost, different types of carports are made for different purposes, so you need to find out what the intended function of the carport you are considering is. For example, some carports are intended for protecting small sedans, others for large SUV or pickup trucks, others for boats, and others for motorhomes or travel trailers.
What Is The Size Of The Carport?
 Now you need to look into the actual size of the carport. The size you choose will be dependent on the size of your vehicle(s) and the number of vehicles that you own.
The general size of carport for a single vehicle will be at least six feet high and twelve by twenty feet. A double carport will increase the dimensions to twenty by twenty feet. If your carport is attach to your house or garage, then the minimum height will need to be seven feet.
What Is The Carport Made Out Of?
 Carports and garages in general are made out of a wide variety of different materials, but the strongest and most long lasting one (by way and large) is steel. Steel is a superior choice than fiberglass, plastic, or wood (the latter of which in particular is extremely vulnerable to pests and general decay).
What Are The Footings Of The Carport?
 All carports require footing so they can adequately hold the weight of the overall structure. There should be legal footing requirements depending on where you live. Generally speaking, most carports will need to have concrete footing with a minimum resistance of two thousand pounds for every square inch.
Is The Carport Attached To Another Structure?
 Finally, is the carport standing on its own or is it attached to your home, shed, or garage? This is important to ask because the size of an attached carport will be largely dependent on whatever structure it is attached to. You may also desire your carport to be attached to your house or garage for the sake of it being more convenient as well.
Finding The Right Carport For Your Car 
Finding the right carport for your car actually shouldn't be all that difficult. You just have to know what to know what's out there and what to look for.