The year 2018 is a promising one for automotive lovers. It will see entry into the market of new car models from some of the most reputable car manufacturers. Leading the brigade is the Volkswagen Arteon. It is coming in as the new face of Volkswagen brand and a rival for added-desirability executive and luxurious options such as the Audi A5 Sportback.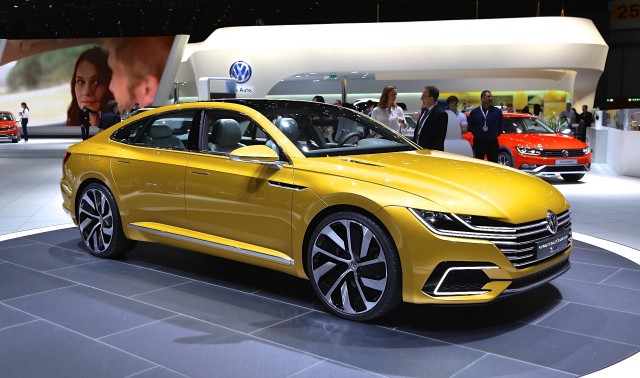 The Arteon is a 5-door hatchback as we see it but Volkswagen disagrees. They refer to it as a fastback because it is hatchbacks as quite smaller, cheaper and much more ordinary than the Arteon. Contrary to what automotive aficionados thought with the announcement of the new car, the Arteon is not a replacement for Passat CC but rather a new contender that is intended to elevate Volkswagen brand to new heights. 
The Arteon's Design
This new VW features influential headlight and grille styling. The horizontal grille bars are designed to run flawlessly into the headlights. This design makes the front end seem wider and therefore more impactful. Such design also gives Arteon the visual appearance of a sports car instead of the practical 5-seater passenger car that it is.
To add to those design effects, the car features curvy rear haunches, sharp body creases as well as blistered wheel arches. Arteon's optional 20-inch alloy wheels also make the car look more like a sports car than a passenger car. Despite the great design, pundits have it that the car is not nearly as unique in design as other new releases set to grace the market. As an up coming car 2018, most automotive lovers would expect Arteon to deliver unique and better visual charisma and distinctiveness.
The only differences in design between Passat CC and the Arteon to most keen eyes would be more plunging roofline and frameless doors. This car features wider axle tracks, longer wheelbase, lower roofline and much different driving position. According to Volkswagen, this 2018 car will give drives a completely new experience that has never had with any previous VW models.
  Arteon's Engine and Gearboxes
The Volkswagen Arteon will be available with an option between three different turbocharged diesel and petrol engines in the various global markets. The car will also be available with manual or twin-clutch automatic gearboxes and either two or four-wheel drive. Currently, it is not clear which markets will receive which engine types or gearboxes.
As you may already know, turbocharged engines are extremely powerful and can obtain greater power output from any given engine size. The Arteon features a compact yet powerful turbocharged engine capable of delivering a superfast acceleration and achieving very high top speeds. You will choose between a 280-horsepower petrol engine and 240-horsepower diesel engine. The petrol engine can get from zero to 60 miles per hour in just 5.5 seconds. Overtaking will be a walk in the park.
 Arteon's Interior, Does It Inspire?
Volkswagen Arteon interior is something to inspire. To begin, it features a redesigned dash that is extremely simplistic to the point that it sparks ridicule among those who love complexities. The dash pad is flat in design and uneventful while the face has nothing but HVAC from right to left. The only interruption in between is an analog clock and instrument cluster that is present in the middle.
The door trim panels feature simplistic design but are very attractive with a spacious cubby in the lower section as well as a flat armrest. The front part of the door panel has an integrated large speaker. The speaker is high quality and if you couple it with the best audio system, you will definitely enjoy the ride when the time comes.
In terms of space, the interior offers a roomy and accessible boot and large legroom for four adults to sit comfortably even during a long ride. The seats are snug and adjustable with a lower seating position that is more enveloping than the Passat CC.
The signature of VW brand is on-board technology and it is evident in Arteon 2018. The designers of this new release had young drivers in mind who care more about sophisticated and info-entertainment technology than the modern balanced western and European luxury. The car seems to be extremely versatile allowing you to add whatever features you may like to give the car a personal touch. It comes with the latest car monitor as well as a host of other onboard technologies.
 Arteon Road Handling
This Volkswagen Arteon review could not be complete without saying something about the driving experience of this car. The car features lightness of control. The diesel engine is remote and quiet even at high revolutions. However, it considerable responsiveness and torque as well the smart shift behavior of it gearbox means you will rarely venture over 3500 revolutions per minute.
Arteon rides are incredibly quiet on a level surface even when you are driving on the love profile tires and optional 20-inch wheels. It has unique adaptive bushings and dampers that ensure a very smooth ride on the majority of terrains. It offers greater dynamic configurability that other previous VW models. To make the driving experience even greater, the Arteon features usual, variable-rate, progressive power steering. Generally, the grip handling ability of this car makes it to feel more athletic to drive.
Final Verdict
If you love German cars, you will be happy to learn from this Volkswagen Arteon review that a new addition will be available for your consideration. From exterior design to interior to drive experience, Arteon is just another viable competitor to the other Sportbacks. You can find out more about the greatest cars by checking about the best source of automotive information.