Chrysler has just recalled almost 50,000 of its new Pacifica hybrid minivans. The recall was voluntary – rather than waiting for federal authorities to issue the recall, they decided to pull out these vehicles from sale themselves.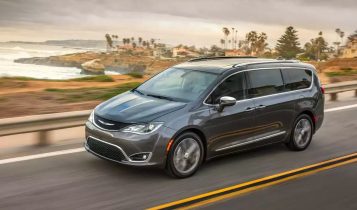 What was the cause of this recall? Faulty seatbelts apparently. That may sound pretty serious, but upon reading into the issue it may not be that big a concern. The dodgy seatbelts in question are the middle back row seatbelts – tests have shown that there's a possibility of them coming out of the latch when 'subjected to extreme handling manoeuvres'.
The likeliness of this being a danger is slim. Most cars only use the middle back row seatbelt when carrying five passengers, which in most cases is two adults and three children. It's unlikely a driver would be attempting 'extreme handling manoeuvres' with three children on board.
Still, in a way it's admirable that Chrysler are taking people's safety so seriously. Such a fault could have easily been dismissed but instead Chrysler have deemed it enough of a possible hazard to recall 50,000 cars.
Is Chrysler in crisis?
Chrysler owners may know that these cars have long had a history of faults and safety issues. With a breakdown rate of 26%, they're one of the most unreliable makes on the road and the kind of car manufacturer that you'll likely want to have auto repair on call for.  They can be fun cars to drive with a distinctive appearance – but reliability is not their strong point.
The new Pacifica is one of many recalls. The 200, 300, Aspen and Sebring are just some of the other models that previously been sent back to the factory. Fiat Chrysler Ram trucks meanwhile have also seen a recent recall after being posed a potential fire hazard (Fiat Chrysler being a subsidiary of Chrysler itself).
Chrysler declared itself bankrupt in 2009 but was later bought up and restored eventually building itself up into a six billion dollar company. Now, the company is back in debt (Fiat Chrysler is 5.5 billion dollars in debt and could potentially be on the brink of bankruptcy again).
That said, Chrysler as a brand seems to still be popular as ever. And its cars, including the Pacifica, continue to receive largely positive reviews. It may not be over for Chrysler yet.