Coming up with a list of the best mountain biking trails is difficult, especially for experienced bikers. Nonetheless, we've shortlisted these 8 beauties that should be on every biker's bucket list.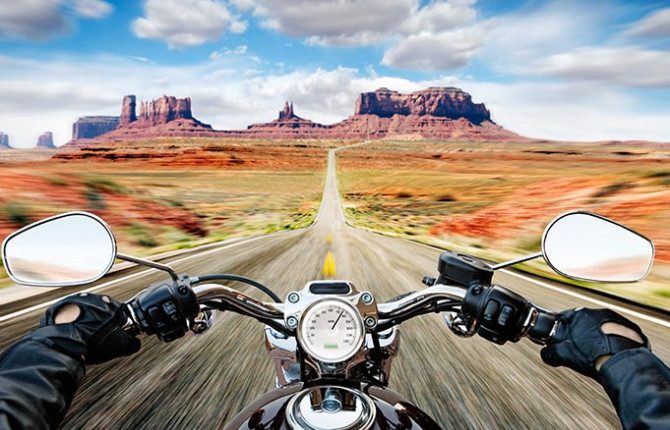 Blue Ridge Parkway
For the most passionate of mountain bikers, the Blue Ridge Parkway offers an exciting ride and some of the most scenic views along the Atlantic coast. Biking across Virginia and North Carolina, from the northern to the southern parts of the parkway is a virtual 2-day, 470-mile trip through American history. So remember to take your dual sport riding gear with you.
George Washington Highway
Route 50, in particular, is one of the most beautiful bike trips in Eastern United States. It is connected to the Blue Ridge Parkway and offers amazing scenery include a ride through the Monongahela National park as well as gorgeous mountains, gushing rivers and magnificent landscapes.
Santa Fe, New Mexico
If you're not bothered by the heat and want to rough it out, the biking course from the foot of towering mountains in Santa Fe, up 7,000 feet is an achievement in itself. The bikeways are well maintained and offer some really breathtaking scenery.
Blues Highway 61
This 600-mile long bikeway straddles Tennessee and Louisiana and offer many exciting stops along the way. Riding your favourite Bike Bandit, you'll pass through the beautiful Chicot State Park which offers an amazing trail. Further ahead, your bike along the Bays Mountain Park. This may be a shorter trail but is very challenging due to many steep tracks.
Needles Highway
This is a popular bikeway since it is the route taken by many to reach the Sturgis Rally every August. While the ride itself is pretty smooth, but be ready to really slow down because the scenery will take your breath away. You'll pass through the Iron Creek Tunnel whose towering granite walls will amaze you.
Beartooth Highway
This is one of the shorter biking trails as it is only 68 miles along Highway 212, starting from Red Lodge in Montana and ending at Yellowstone National Park. Biking along this road is exciting thanks to several twists and turns that occur with great regularity while offering scenic views of the Shoshone National Forest and beautiful alpine skylines.
Traveller's Rest
This is one hidden treasure if ever there was one. This trail begins at Travelers Rest in South Carolina and takes you through some amazing scenery along the Blue Ridge Mountains. The ride is pretty exciting and should be chosen by experienced bikers due to its truly novel scenery.
Route 66
This one is truly for the marathon bikers. At more than 3,000 miles, this biking trip should not be chosen by the fainthearted. However, the rewards for those who do are plenty. Amazing scenery along Bluff Creek Trail that takes you through a beautiful wooded forest for three straight miles is the highlight.
Even if you've taken to these trails before, we recommend that you revisit them. It's like meeting an old friend along a familiar path and finding yourself again at the end of the journey.