For the second year running, Nissan has teamed up with Lucasfilm, the creator of Star Wars. Continuing from last year's adaption of the Nissan Rogue for 'Star Wars: Rogue One', Nissan has produced six cars in honour of 'The Last Jedi', which has just come to cinemas.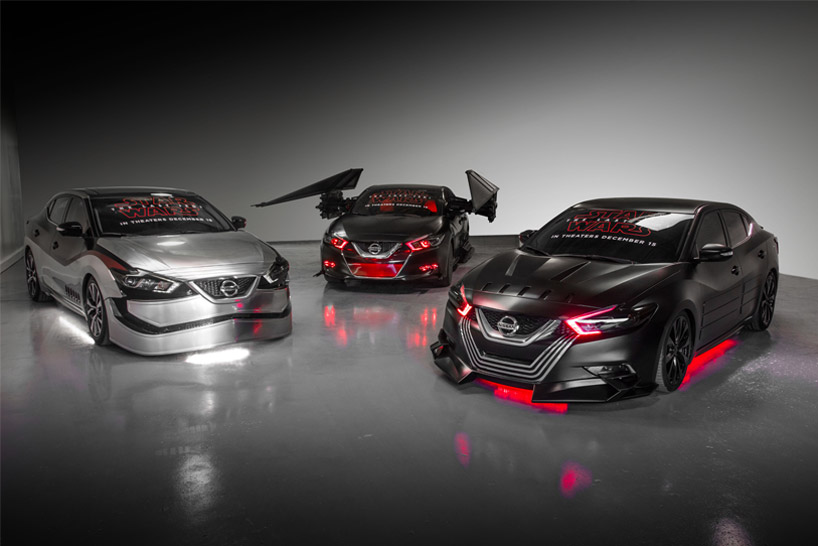 The Nissan Altima saloon was treated to a new paint job and special-edition alloys, making it look like a Special Forces TIE fighter, while Kylo Ren's facemask was the inspiration for the larger Maxima saloon. The sleek black paintwork and silver stripes surrounding the vehicle's grille perfectly embody the villain. The Maxima even has ominous red headlights to match Ren's lightsaber.
Two more Maximas were also produced, one modelled on Ren's TIE Silencer and the other incorporating the design aspects of Captain Phasma's silver suit, including an aluminium front bumper to replicate her armour.
Next up for a revamp was the Nissan Rogue. There were two Rogue designs; one based on Poe Dameron's X-wing fighter, and the Rogue Sport, based on the A-wing fighters.
Nissan finally added a 2018 Titan AT-M6 to the list of show cars too, which, according to the manufacturer, was the biggest car in terms of physical size to debut at the LA Auto Show this year. It was based on the mammoth First Order walker, featuring an all-round silver coat and a Mega Caliber cannon on its back.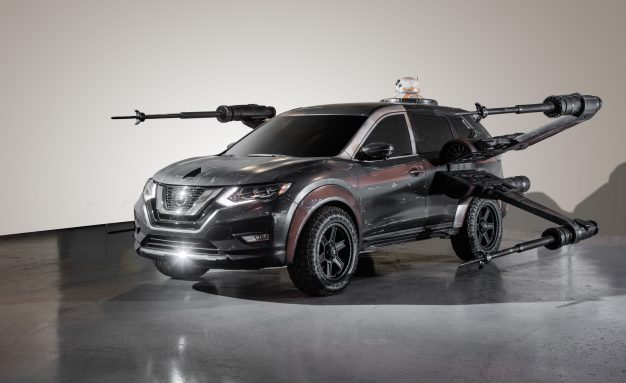 Whilst these cars aren't for sale, Nissan is releasing a limited run of Rogues, inspired by the previous film, Rogue One. The car is available in two colours – Darth Vader black and Stormtrooper white – and just 5,400 samples have been released. The vehicle is based on the Volume SV trim level, although, the Sun and Sound Touring package are included as standard. Star Wars liveries are dotted all around, from the kick plates to the a-pillars. Along with these exterior and interior additions, Nissan also presents buyers with a full-size Death Trooper helmet, enough to make any Star Wars fanatic go weak at the knees.
Joel from LMC believes that this range outclasses last years releases, his favourite being the Altima Saloon Makeover to make its appearance similar to a TIE fighter.
Nissan isn't the first company to produce a Star Wars themed crossover. Volkswagen used the force in a Super Bowl advert, while Dodge assumed Rogue One livery for their Viper, Charger and Challenger. Toyota also struck a deal with George Lucas, who kept all licensing rights for himself, allowing the car-maker to use R2D2 and C-3PO in their Prius advert, aired in Japan.