Tesla's CEO, Elon Musk, has been described as the real-life Tony Stark (aka Iron Man). A multi-millionare with outrageous ambitions who puts his money where his mouth is. He founded the popular online payment gateway PayPal and is the current CEO of SpaceX, a company whose focus is space exploration and who created the first space rocket to land itself on its return to Earth.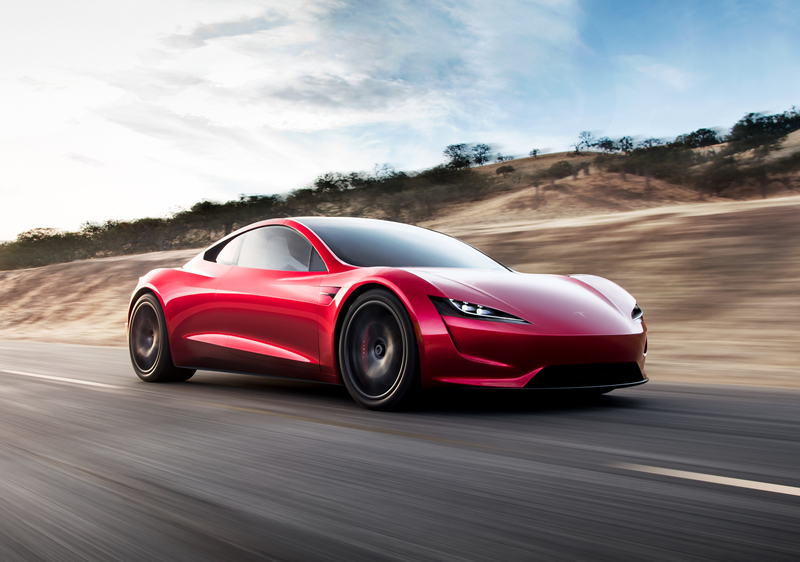 Performance Madness
On 17 November 2017 Elon Musk unveiled the long awaited second generation Tesla Roadster, which according to him, will be the first production car to break the 2 second barrier by doing 0–97 km/h (0–60 mph) in 1.9 seconds. It does this with a mindblowing 10,000 nm of torque*. The new Roadster will be able to go from 0-161 km/h (0-100 mph) in less time than it takes you to read this sentence (4.2 seconds to be exact). There isn't a single car in production today that can beat those numbers.
*To put the torque into perspective, here's a video of a Tesla Model X which has 649 nm of torque. Now multiply that pulling power by 15 and you have the new Roadster

The above mentioned figures are achieved by the Roadster's three electric engines, one located in the front or the car and two in the rear. This allows the Roadster to have all-wheel drive and apply torque vectoring while cornering. This is all powered by an incredible 200 kWh battery which is twice the capacity of Tesla's Model S P100D. The company claims this will give the new Roadster a range of 1000 km (621 miles).
Musk didn't reveal the top speed of the Roadster, but he did say it'll be capable of doing over 400 km/h (250 mph). If that's to be believed, the Roadster will have a higher top speed than a Lamborghini Veneno, Porsche 918 Spyder, McLaren F1 and Pagani Huayra. So how much will an electric car with the performance of some of the top supercars in the world cost?
Show Me The Price Tag
The base model is expected to sell for roughly R2,696,000 ($200,000). That's a price tag not many will be able to afford and I imagine the car insurance premiums will be more than my living expenses. Despite the high cost, the Roadster will be three times cheaper than any supercar on the market with equivalent performance. And that's exactly the market Tesla is aiming for…supercars.
Companies like Lamborghini, Ferrari and Porche are now starting to view Tesla as a company that could be a real competitor in a market they've dominated for decades. Imagine getting the performance of a Bugatti Chiron for a fraction of the price. It's like buying a BMW M6 (valued at R2,016,400) for the price of a VW Golf GTI (valued at R545,900). That's a real concern for supercar manufacturers. How this will pan out is something we'll have to wait and see.