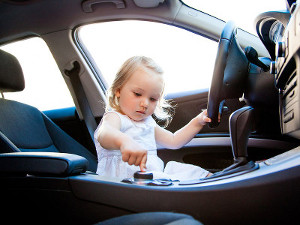 High performance cars and babies might seem like an oxymoron, but if you install the proper car seat, there's no reason why your child can't enjoy the luxurious drive in your Porsche, BMW, Jaguar, Lamborghini, or whatever your luxury ride may be.
Of course, when taking your child along in your high performance car, there needs to be a back seat. Just about every country has laws that require youngsters to ride in a safety seat in the back seat of a vehicle.
A four door luxury performance car is recommended since a two-door, four-seater makes it a bit more challenging for taking a young one in and out of the car seat.
There is the best of both worlds, though, as some vehicles do double duty as a performance car and a family car. You'll still have the horsepower, clean handling, luxurious interior, good balance of interior space and latest technology that you so love about a performance vehicle, plus the added design and safety features that a family needs.
According to automotive experts, some models to consider are the Mercedes-AMG C63 S, BMW 6 Series, Audi RS 7, and Lexus GS F. They're family-friendly without sacrificing performance.
Best Car Seats for High Performance Cars
As with your premium vehicle, you want a car seat that is designed to provide the utmost in safety and performance.
No matter the type of car, it's important that you install a child's safety seat so it delivers the ultimate in crash protection.
Most laws either require or recommend a rear-facing car seat for infants to young children. That could create a quandary since some back seats of high performance cars may be too small to fit a standard car seat. In these instances, you may need to purchase a narrower car seat.
The best rear-facing car seats for performance cars have these key features:
High impact, energy absorbing components, such as a high grade of protective foam around the head area of the car seat's outer plastic shell and side impact protection;
Seatbelt routing paths to avoid excess slack in the safety belt;
Locking clips that are built into the car seat;
A 5-point harness with two-piece chest clips and wide straps to prevent twisting;
Rear-facing tethers and anti-rebound bars to minimize rebounding in the event of a frontal crash.
 Tips for Safely Installing Your Child's Car Seat
According to certified child passenger safety experts, an estimated 85 percent of parents do not properly secure their child in a car seat. The first mistake made is improper installation of the seat.
Safely installing a car seat takes on even greater importance when your child is riding in a high performance vehicle.
With the sleek design of high performing cars, owners may face additional challenges when installing a car seat, like space constraints in the back seat, tight quarters for securing the seat and a difficult fit with the vehicle seat's style.
To ensure the installation is correct and meets safety standards, follow these seven tips:
Install the car seat in the center of your car's back seat. This position lowers the risk of injury in a crash.
Some performance cars are not equipped with a LATCH (lower anchors and tethers for children) system in the middle of the back seat. If this is the case with your car, then position the car seat on either the right or left side of the back seat. In terms of safety, using the LATCH system takes precedence over installing the car seat in the center of the back seat.
Depending on the model of the rear-facing infant car seat you purchased, the handle should be kept either up or down when in the car. Because the handle position varies by manufacturer, it's essential that you take the time to read this important information included in the seat's instructions.
Install the seat's harness straps through the slots and adjust them so they are at or below your child's shoulders.
Be sure the harness straps are not twisted anywhere from front to back.
Tighten the harness straps with enough tension so when your child is in the seat, you are unable to pinch the fabric between your fingers.
Have your installation checked by a certified technician. Check with your local police department for the child seat inspection station in your area. The inspections are usually free!
Providing a Safe Ride With Your Child in the Car
You have a high performance car, so naturally you want to drive it the way it was designed to be driven. But, now that you're a parent, you may have to tame some of those behaviors that get the adrenaline flowing, especially when your child is traveling with you.
But, that doesn't mean you can't enjoy the way your luxury car hugs the curves, quickly goes from zero to 60 and handles smoothly on the highways.
All it means is that you need to remember these safety tips when taking along your child in your high performance car:
Never turn around to look at or hand something to your child in the back seat. Even if you think something is wrong with your baby, pull over in a safe spot and check.
Don't drive aggressively or at excessive speeds while traveling with your child. Stay within the speed limit or the flow of traffic.
Don't make sharp turns or cut into and out of traffic.
Stay focused on your driving and don't get distracted by your child, talking on your speaker phone, checking texts on your phone, etc.
While you're probably used to driving defensively in your performance car, when your child is with you, drive offensively.
You probably remember the awesome feeling you had when you first got your high performance car. It's the same feeling you got – probably better –seeing your child for the first time. But, just because you're a parent now doesn't mean you have to trade in your sports car for a family car.
Rather, you just need to think differently when enjoying your sleek ride. With a mindset geared toward safety, even your child can enjoy all the things you love about your high performance car.