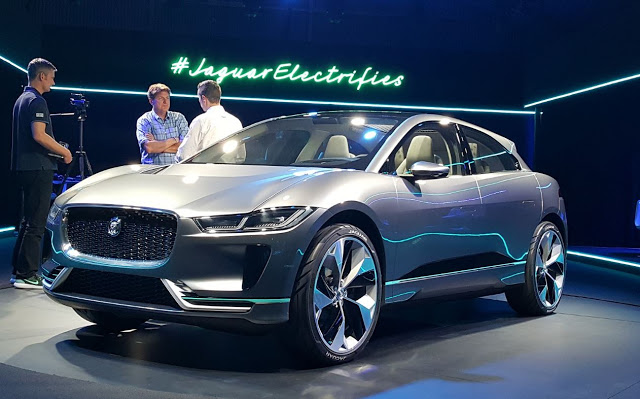 Like anything in the world of technology right now, cars are in the midst of a major shake up. With rumors of fully automated vehicles on the rise, even companies like Ferrari have hinted at an all electric supercar. One thing's for sure; any dealer who wants a chance of success in 2018 should be jumping on this bandwagon.
Luckily, there are many releases in store. And, they all promise not to disappoint. In previous years, we've seen the rise of infotainment systems and increased spatial awareness. Thanks to dealers like Tesla, many new releases now have cameras included in their basic design. As well as helping with safety, steps like these ensure companies like the law office of Lopez & Humphries stand the best chance of seeing justice done. On top of which, these are all steps towards the autonomous vehicle future we keep hearing about.
But this year promises to be different again, with electric vehicles top of the offering list. Arguably most anticipated of all is the Jaguar I-Pace. Jaguar may not have been the most up and coming designer in recent years, but they seem determined not to get left behind here. Their electric offering, due for release in the second half of 2018, is undoubtedly a strong contender. So much so that many are pitting it against Tesla. In the current market, that's a weighty comparison if ever we heard one. But, so far so good, with an estimated 25,000 orders confirmed and an estimated two-year waiting list. Add to that the rumoured four-figure deposits, and it seems like Jaguar are doing pretty well out of this already.
In truth, this car has been making a stir since its unveiling at the LA Auto Show two years ago. Indeed, an electric offering from the big cats of the auto world is something to get excited about. Jaguar went for mystery in that first reveal, with the exterior covered in camouflage, and much of the interior concealed. But, the reveal certainly piqued a healthy amount of interest, or so the pre-orders would suggest. Now we know more, intrigue levels have only grown. If Jaguar does manage to pull off a strong competitor to Tesla's Model X, they can certainly be pleased with themselves.
The first thing anyone will notice about this vehicle is its appearance. Tesla may well be kicking themselves, but Jaguar is the first to change the proportions of their design on the back of the electric model. While Tesla's electronic options have, as yet, retained a long hood, Jaguar have made some alterations here. The hood and rear are short and clipped, making the I-Pace an average two inches shorter than Jaguar's F-Pace. On top of which, the roof is around four inches closer to the ground. Even so, the cabin space doesn't suffer thanks to the electric nature of the car. On top of which, the floor is entirely flat, which really adds to the spacious feeling. Of course, you can't shrink the rear of a car without suffering for it a little. That said, there should still be 530 liters of boot space. That's more than enough for the majority of your needs. And, the flat flooring ensures more floor space for storage if needed.
Of course, so far, we've only seen concepts for the vehicle, but few changes are expected from what we already know. Much like Tesla, the 90-kWh battery pack for the I-Pace is in the floor and delivers power to two motors. Each of these is expected to produce 200 horsepower, and provide four-wheel drive. On top of which, each battery charge will last 250 miles or more. On top of which, batteries can be charged in just over two hours. Not bad going for a first attempt. As if that wasn't enough, this beauty should be able to get from 0-60mph in around four seconds. Starting to see why Tesla should be quaking in their boots?
As well as the shortened and, some would say, cutting-edge exterior, the interior isn't too shabby. The design is sleek, with plenty of technology to boast without being too bulky. The three infotainment screens fit seamlessly into the design. A display containing vehicle information is even neatly tucked away behind the steering wheel. You won't have to worry about your charge when it's right in front of you for the whole journey. As well as helping with appearance, this has got to be a good thing when it comes to driver safety. Every screen is pretty easy to see without your eyes straying too far from the road. Unlike the middle positioning of some infotainment systems, the I-Pace screens are all clustered directly around the driver's side of the car.
Prices seem uncertain as of yet, though signs suggest this release is going to be somewhere below $100,000. Rumors indicate it will be around the $75,000 mark, though nothing has yet been confirmed. In that respect, this doesn't vary much from Tesla's Model X, which comes in at $80,000. Talk about going up against it. Early signs look good for Jaguar, though. They've even stated that they would like an electric version for at least half of their cars by 2025. So, it seems Jaguar is really putting everything into this. It's no surprise when you consider the slack they've received in the past for dawdling along with the S-Type. It seems this is a company determined not to get left behind.
Of course, it's easy to draw parallels between the I-Pace and the Model X right now. After all, electric cars still aren't readily available from most companies. By the end of the next few years, though, more and more traders will be bringing us their attempts at the future. And, each time, you can be sure competition will be more fierce. No one can tell how the future will progress, but you can be sure that the reaction to the I-Pace will be a huge indicator either way.