Let's face it that while bikes look cooler and more attractive, they're not as safe as cars are. Yet, taking risks is what makes riding motorbikes rewarding. As more bikers have taken up bike racing, the frequency and number of crashes have increased at an alarming rate. However, there are many things bikers, and even, car drivers can consider to remain safe while plying their vehicles on the road. In this article we've compiled a list of 7 safety tips for the bikers.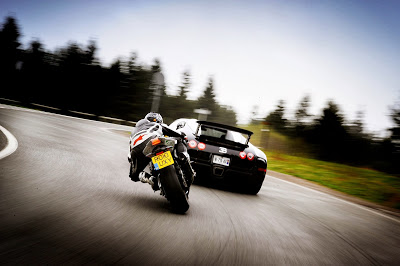 Let's have a look, shall we?
Is Your Vehicle insured?
Whether you do it out of compulsion or willingly, insuring your vehicle is essential before plying it on the roads. God forbid, if you meet with an accident and need to be hospitalised, who will bear the hefty bills? Well, a bike insurance covers you for the incurred expenses during an accidental hospitalisation. Moreover, you can repair your damaged bike at a network garage without spending a penny. Those who are passionate about racing should seriously consider this point, as a single hospitalisation may cause a huge monetary drain. If you don't want to sell your family heirlooms, take bike insurance and drive safe!
Opt for a Motorcycle Safety Course
While taking a skill test at the time of applying for a driving license is a rule in some states, taking bike safety class is considered as important as having a license in some other nations. Even if your state doesn't require you to take one, you should take it. It helps improve your riding skills, teaches you the traffic rules of your native place, how to react in case of an emergency, and helps you apply your skills in any environment. It gives you various tips on maintaining your bike and how to avoid adverse eventualities. This course prepares you to hit the road or racing arena safely with more confidence.
The best part is, in most states, bike dealers offer motorcycle safety courses, that too with a discount (terms and conditions applied). If your heart is set on a particular bike brand, taking this course is an ideal way to get to know that brand.
Make a Helmet Your Best Friend
This is applicable to normal bikers as well. Wearing a helmet is the safest way to avoid consequences while riding. Head injury is the leading cause of death, especially in cases of road accidents. By wearing a helmet, you protect your head from being injured. However, wearing the right helmet is what matters. You'll find lots of places that sell ordinary helmets which look good, but don't provide the adequate protection. You should go for helmets that are approved by Department of Transportation or that come from renowned brands.
Pay attention to the fitting. It should not be too loose or too tight. It shouldn't bar your vision but should wrap around most of your head. A windshield attached with it will protect your face from dust, rain or bugs, but the full-helmet with a piece, which goes around your chin and restrain your face from making any contact with the road in case of an accident, will do the real protecting.
Even if you don't follow other bike safety tips, you must wear a helmet such as these bell motocross helmets for sale.
Educate the Pillion
Be it a long drive or casual outing, having someone on the back while riding is always fun. Chit-chatting with someone or having their hands on your shoulders can be so romantic. However, your riding partner also has a part to play, when it comes to safe riding.
Ensure, the person you carry along with you is well informed. He/she should know the basic safety needs such as wearing sturdy shoes, helmet, protective cloths etc. Also, do your homework beforehand while going to carry a person who is overweight. Your passenger should know not to distract you. Some states also have laws for carrying a child. Make sure you are aware of your state laws when it comes to riding a bike.
Consider the Weather
Weather plays a very important role and one must factor it in, especially racers. As they are not as steady as cars, riding a bike on a rainy day is not safe. It is riskier as the whole grip and balance is maintained by two wheels. Moreover, without windshield wipers, visibility is compromised when riding through the rain. Again, when rain hits the roads it leaves some oil or other residues that make the road slippery. Let the rain stop, then hit the road and be extra cautious. Keep the speed low; leave enough space from the car in front and slowly move on.
Protect Your Feet
Wearing the right shoes is important to ride your prized possession safe. Your foot is so frequently being used to shift gears. Here open-toed shoes may cause a problem. While riding, the rider usually rests his feet on the engine and exhaust system, which get hot after some time. There are possibilities you can burn your feet in flip-flops or bare feet.
Only sturdy shoes are recommended while riding a bike, especially for racers. These shoes provide the ultimate protection to your feet and also, there is less chance of them slipping. Choose your shoes carefully, because while riding, slipping or falling down is the last thing you want to face.
Ride Within Your Skills
You can't excel at the skill of riding overnight. To be an expert rider, you should be patient and need to develop the skill with time. To stay safe, make sure you don't bite off more than you can chew or ride in terrain above your skill. If your friend can go really fast, that doesn't mean you should too. Of course, you can challenge yourself. That's how your skills will be sharpened, but how safely you approach it is what matters.
Summarizing the Above!
Bikes are the most convenient mode of transport. Whether you go for a long ride on the weekends or make a regular commute, riding a bike is an experience like none other. It is very economical, full of fun and easy to maintain. However, the bike has its share of inherent risks, it is your responsibility to play safe. Whether you're a normal biker or professional one, following the safety measures at the time of riding is necessary. We hope you will consider the aforesaid safety tips the next time you are out for a ride or stepping into a racing arena!