There are so many reasons to buy a motorcycle. They're more efficient, and a lot of fun to drive. There's nothing like cruising on your bike down a curvy road in the dead of summer. But, just like anything else, there are things to consider when purchasing a motorcycle. What type of style do you like? What features do you want? What about fuel economy?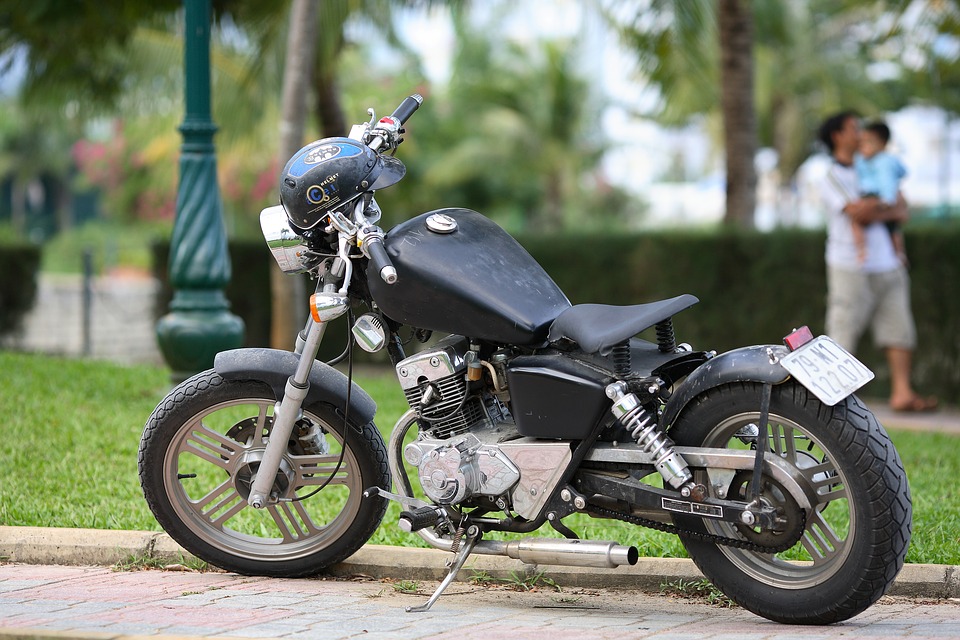 There are several steps that need to be taken into consideration, including deciding what type you are going to buy. This isn't a simple process, as bike manufacturers have created branches and subbranches of bikes. And even then, you must decide between off-road, on-road or dual-purpose. The list is endless.
Overall, you need to decide what you want to do with your bike. With technology nowadays, there are many options. Are you looking for something simple, or are you wanting some special features on your bike? Maybe you want a little bit of technology, such as traction control, but not so much that the computer is doing too much work for you.
Let's talk about a few things to consider when buying a motorcycle.
Ergonomics
A bike may seem comfortable when you are straddling it at the dealership and during the test run, but after awhile you might discover that it's very uncomfortable to drive for long periods of time. This is due to the bike not being fitted for your body type.
You need to pay attention to the ergonomics of the motorcycle. For starters, when you sit on the motorcycle, the handlebars should neither be too short or too far away. The reach depends on is dependent on the seating position of the bike. Some bikes require riders to stretch to reach the handlebars. These include sport bikes, cafe racers, and racer replicas with clip-on or Clubman type handlebars.
You shouldn't feel cramped, Your elbows shouldn't be severely bent and you shouldn't struggle to reach the hand grips. The handlebars should place your hands below shoulder height, but above the knees. The handlebar should allow your wrist to fall at a natural angle, making a straight wrist angle for maximum steering leverage. This also offers a secure hold for long hours on the road. Extreme handlebar types can be really uncomfortable.
The handlebar and the seating position help determine the seating position of your torso. Cruisers and standards typically put you vertical to the wind–which is ideal for many riders. This can feel good at rest and and offers good control and visibility for your typical urban/suburban riding. It is also good for freeway speeds, granted the motorcycle has good windshield or fairing.
Some people prefer a slightly forward position while driving, which might be easier on the rider's back.
The hold on the hand grips should be secure, with an extra pattern or shape to provide friction and grasping pressure. Different riders have different preferences, form barrel-shaped grips to softer accessory grips.
Most clutch and brake levers are secured to the handlebars by screws or bolts. These can be loosened and the levers rotated.
Electronics
Traction control and anti-lock brakes are just two of the electronic options to consider when purchasing a motorcycle. There are several trends and options to consider. Lean-sensitive ABS and data logging capabilities put modern bikes in line with professional racers. High-tech options like these come with controversy among many riders who enjoy the simplicity of riding.
When technology was first introduced to bikes, a lot of riders were opposed to it. They felt it would ruin the experience. Unlike car drivers, many motorcyclists like to have more control over their bike, meaning they don't want to rely on tech to control the experience. People were outraged on the internet, stating it would ruin the skill of riding, but others point out that increased safety is worth the changes.
Even with the controversy, though, tech with bikes has increased in popularity. Riding modes, for instance, can really help modify your experience on a bike and possibly increase enjoyment. ABS and traction control are common features. Other features may include an anti-lock braking system, inertial measurement unit, and slide control.
Again, you need to decide what you want to do with your bike. Many riders enjoy the simplicity of riding a simple vehicle, whereas many modern riders also enjoy the special features.
Style
This is another category where you have many options, and the best advice is to find something you love to look at. The style also helps determine your tech options, among other features. So, finding something that fits all of your needs is the ultimate goal.
You can choose a standard bike, which is flexible in what you can do with it. The style keeps it simple, and the ergonomics have a more natural sense of comfort. This bike isn't necessarily for beginners, though. There are many different levels of use on standard bikes.
Next, there's your cruiser. This is what a lot of new riders think of when they think of a motorcycle. These are good for relaxed rides, and has a low seat which makes it easier to put your feet down. The low center of gravity also offsets the heft. The engine is also tuned for low RPM power, which makes the clutch/throttle coordination easier. But, the long and low frame can make handling a bit awkward.
The sportbike is another type of bike, which is designed for speed and handling.They are lightweight and easy to handle, and their style appeals to a lot of people. You need to watch out, though. Most sportbikes are designed with high power and demand the highest levels of motorcycling to ride them well and safely. The engines are often tuned for higher RPM power delivery, and the high insurance costs reflect high-cost repairs. Performance-oriented models require a high level of maintenance also.
Dual sport bikes are built for on and off road, and is a common choice for people who rode dirt bikes when they were younger. They are light and nimble, and versatile enough that you can gain experience and explore a range of roads and terrain. They are built to be tough on the trails, but comfortable on the road. Additionally, they are relatively inexpensive and cheap to insure. Some cons for the new rider include a high seat height, the styling may not appeal to everyone, limited range and cargo capacity, and the ergonomics aren't good for long rides.
There's also the adventure tourer. Many of these are designed for lots of luggage space and with ample fairings. They are also comfortable with good weather protection. However, they have high seats and can be a bit pricey if it's your first bike.
Price
This may not to be the most important issue for many new buyers, as they are purchasing out of passion instead of practicality. However, we all have our limits and it's good to be aware of the different price ranges for these types of purchases.
Motorcycles can range in price from a few thousand up to tens of thousands of dollars, so there is an option for almost any budget. Take a look at some of the options at CleanHarleys.com to get a feel for what some of your options might be. However, don't be discouraged if you don't see anything you can pay for out of pocket.
Because many motorcycles can get a bit high in price, many people choose to finance their purchase, much like you might do with a car. If you have passable credit, that might be an option for you. Of course, you'll need to know what you can pay as a down payment and be aware of how a monthly payment can fit into your budget, but financing can open up more possibilities for what motorcycles might be in your price range. Get yours with Southeast Financial loans.
Fuel Economy
People often don't consider fuel economy when purchasing a motorcycle because they assume they're all gas guzzlers. However, there's a lot to choose from when you're looking to save gas while riding your bike.
The Honda Grom, for instance, gets 125 miles to the gallon because of its 125cc engine. The Motoped Cruzer gets over 100 miles to the gallon. It comes with an engine displacement for 49cc, an electric starter, LED headlamps, and more.
The Suzuki TU250X comes with a single-cylinder four-stroke 249cc engine. The Kawasaki Engine 250R gets 77 miles to the gallon. It is the fuel efficient sport bike.
The 2017 Honda Rebel is another good one, at 78 miles to the gallon. It has a 286cc liquid-cooled single-cylinder four-stroke engine, and has a six-speed transmission.
So Much to Consider
With so many options out there, there's a lot to consider in terms of style, technology and even fuel economy. The ultimate goal is to get a bike you love to drive, and maybe even love to look at. Take all of your options into consideration and find a motorcycle you can be proud to own and ride!
Remember you need a helmet wherever or whatever you ride so if you need a helmet for men or motorcycle helmets for women make sure you are protected.