When it comes to American muscle, the Ford Mustang and the Chevy Camaro are two of the top contenders. What started out as a fun toy evolved into a powerful performance machine. From features to comfort to performance, both of these vehicles will meet, and most likely exceed, your expectations.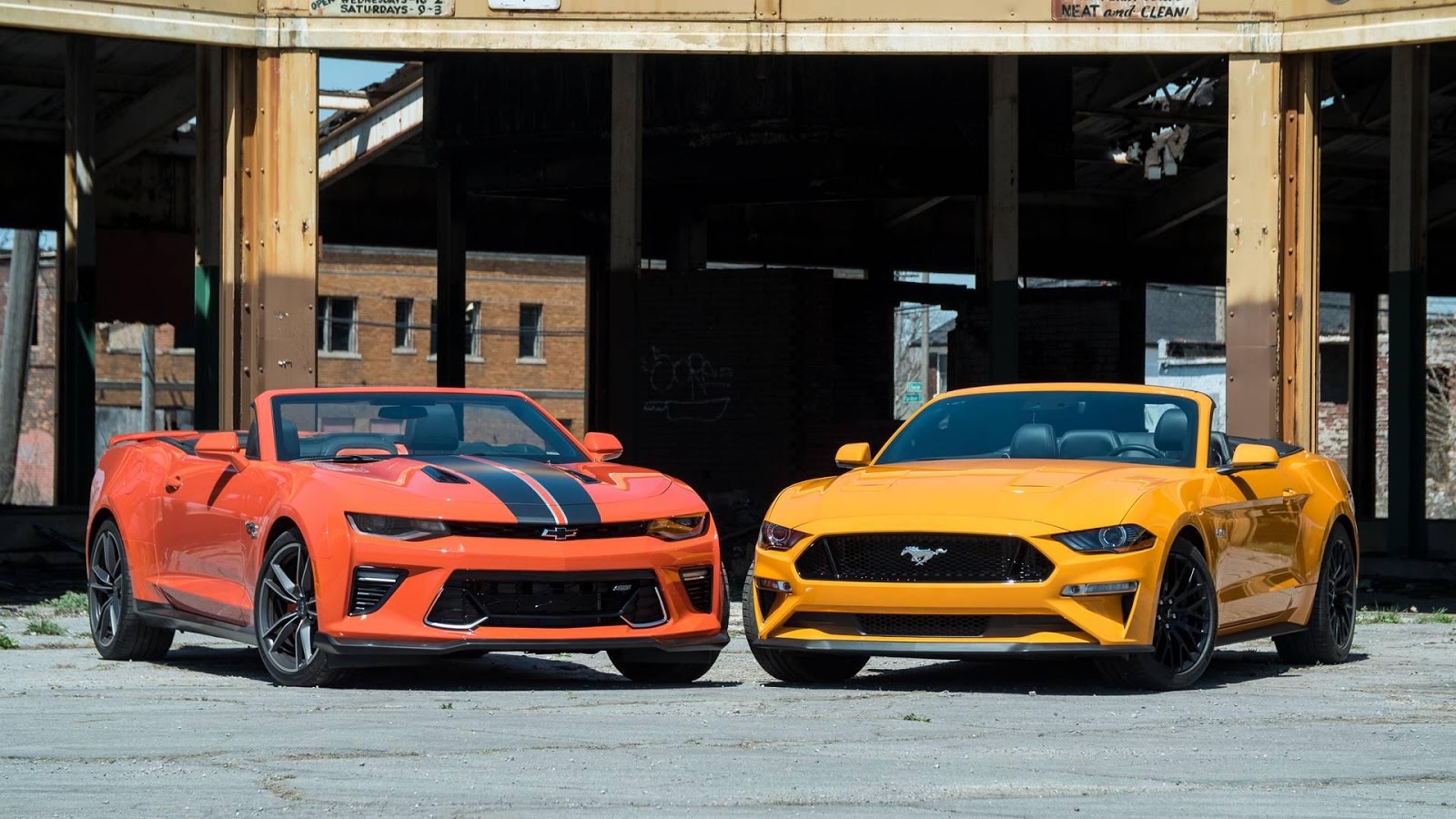 Performance
The Mustang GT has a 5.0-liter V8 with 460 horsepower. The sport exhaust emits a rumble just loud enough to announce your presence in the neighborhood. The independent rear suspension increases maneuverability, making it fun to drive on the back roads and highways.
The Camaro SS has a 6.2-liter engine, which is massive compared to the Mustang, but it only has 455 horsepower. What it loses in horsepower, it makes up for in torque. At 455 pound-feet of torque, you can feel the power under your feet. It's far from quiet, but still not as loud as the Mustang.
Practicality
Many low-slung vehicles make it hard for everyday drivers. They limit visibility, their seating is cramped, and they are better suited for the occasional lazy Sunday drive than a daily commute. The Mustang, however, is just the opposite.
Its upright seating makes it easy to drive in traffic and congestion. You can easily see the corners of the car, and its power makes it fun to weave in and out of gaps in traffic safely.
The Mustang also has a huge trunk. While we typically don't think of these types of cars as needing to haul a lot of cargo, the option is there. You can do your grocery shopping, go golfing, or take the kids to practice and you'll still have room to spare.
The Camaro is not as easy to see out of. Visibility could be better, and that can be nerve-wracking for an everyday driver. It's built for drag strips and straightaways, which is great if you want performance, but not great if you're trying to mix your fun with function.
The trunk on the Camaro is quite a bit smaller than the Mustang, the back seat is smaller, and the fuel economy is worse. Even so, the transmission is smooth and offers easy shifting and a comfortable ride overall.
Options
While the Mustang GT and the Camaro SS are true performance vehicles, both have trimmed down versions of the beast that are comfortable, stylish, and fun to zip around town. They provide enough oomph for many drivers, get better gas mileage, and make reliable vehicles that you could use as your everyday drivers.
Price
The Ford Mustang starts in the low $40,000s, and the Camaro is about the same. For all the added features, you can really ring up quite the price tag, but buying them from a used car dealer gets you a much better deal, even for just one or two model years old.
If you're looking at the performance package on either vehicle, buying them used is a great option, so you get what you want at a lower cost. They're both built tough, and you won't have many problems with something that's a few years old.
Ultimately, the decision comes down to personal preference. Both offer comfort, performance, and fun. Functionality is up in the air, but if you have a particular brand loyalty or you like the looks of one over the other, that won't matter much to you.
Pueblo, Colorado is home to a huge selection of used car inventory, making it easy to find the perfect performance vehicle for you. American muscle has come a long way, and you'll be pleased as punch with either the Mustang or the Camaro.