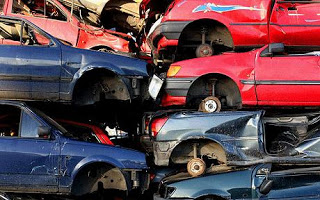 We all have our junk lying around, which would do us more good when sold rather than having them lying there, rotting and going to waste! Your junk could be anything really. Could be your junk mail, toys, outfits, and if you're really lucky you may even have that junk in the trunk. Still, there's one type of junk that brings in the heavy dough and that is none other than your old car. The only problem is that it can often present itself as a tough sale to make, seeing that not a lot of people can see the appeal. However, you're in luck, since here is how you can make that sale happen.
Where to sell your junk car?
This is the easy part, since all you have to do is look for a junk yard close to where you live. You could google 'junk yards nearby' unless you've been living under a rock, in which case you can go for a more traditional approach and ask around. Now, you're going to have to determine which junk yard will serve your purpose best. Even though they usually specialize in cars, make sure beforehand, if it doesn't, then move on to what's next.
Junkyards specialized in cars live off selling used car parts, and this is where your car comes in. When you offer it up for sale, it'll most probably be of value since the parts that come with it can be utilized for different things.
If you would rather not deal with a junkyard or if there isn't one nearby, then you might want to look for an independent buyer or at least a different kind of buyer. Usually turning to google will do, where you can search junk car buyers near me, which should bring up a list of people interested within the vicinity of where you live. This could link you up with a business of some sort, if you're lucky, that could potentially pay you with cash on the spot and even tow your car away for free.
Things to do before selling
There are certain things you must make sure before giving away your old car. Firstly, you must make sure you have the correct paperwork to junk your car. Such papers are needed in transferring ownership, making it crucial during the transaction. Another thing you must make sure of, is the license of the new owner to be. Although it's not usually demanding, some areas will not allow it by law otherwise. If your junk car has insurance, it would probably be best if you cancel it. Especially as you won't be needing to insure it since it won't be owned by you.
You will find that in different areas there will be different laws concerning the removal of your license plate. One thing is for sure, you have to remove it. Next thing you'll have to do is weigh the car, as it gets priced per ton. You'll want to get a precise weight so that you'll be able to know it's worth. And make sure the weight is certified and not tampered with, since dealers may be looking to scam you into underpaying you for it.
Now it depends on whether you're not driving the car or not which will determine that you'll then either call or not call a towing truck, obviously for reasons of transportation. And always make sure it's not a scam.
Things not to do
It is of extreme importance that you don't forget to sign a release of liability upon making the transaction to sever ties with the car that was once yours. Also, try not to accept the first offer that comes your way, as the possibility of getting better offers is always valid. And only sign over the deed to your car once your cash is in your hand. Otherwise, you could be endangering yourself to an improper transaction with the dealer as they might not pay the amount you would have agreed on. Finally, if your car was manufactured before the year 2000 do not worry, as they're ever rarely deemed worthless. All cars have value, even if it were damaged.
Having made these considerations you will find that you are now set and prepared to sell your car with knowledge. Although, assessing your car's worth is key to getting a good offer, don't forget to pick up your possessions from the car, forgetting them inside could be upsetting. Good luck with your junk car.