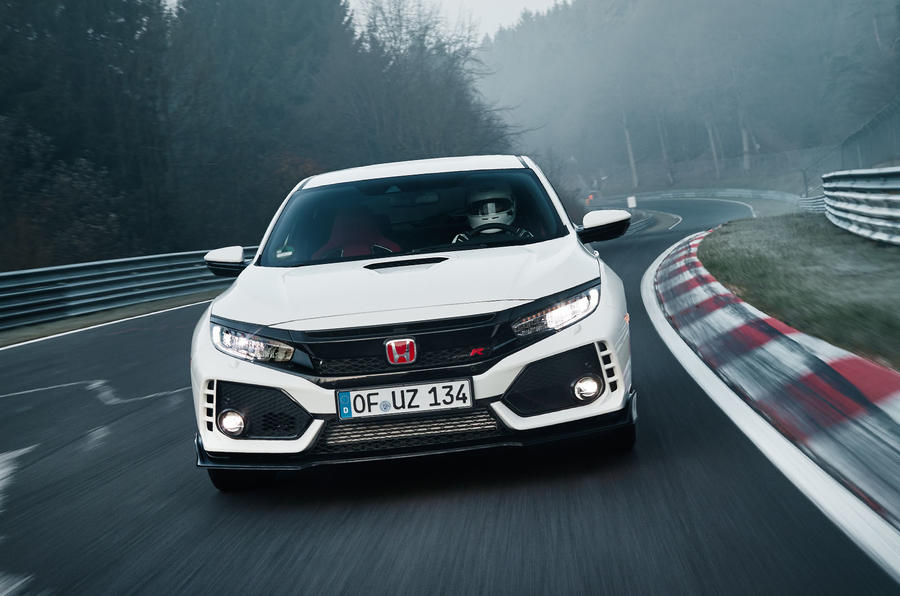 Is the Honda Civic Type-R the best performing front-wheel-drive car that's currently available in the market? While detractors may point to its questionable design, there's no denying the facts.
Unfortunately, the Type-R is a polarizing high-performance hatchback. Some say it's too good to miss, whereas others claim it's too ugly to own. In this post, we'll separate the fact from fiction to see whether the Honda Civic Type-R really stands atop every other front-wheel-drive car in the market.
The Honda Civic Type-R 2019
Car and Driver listed the Civic Type-R among the Top Best cars of 2019, and for good reason. It managed to beat the Ford Focus RS when compared head-to-head and has a perfect FWD performance that prioritizes balance via chassis tuning while eliminating unwanted torque steer. This car is powered by a manual six-speed gearbox that's coupled with a turbocharged, 306 horsepower four-cylinder. 
Don't be too quick to push it aside due to its funky looks; you'll be in for a pleasant surprise once you experience the insane grip and power the Type-R possesses. If there's one hatchback that doesn't deserve to be judged by its cover, it's this one.
But enough with the praise, what's new for the 2019 version? Well, if you're left frustrated by the infotainment touchscreen interface, then you'll be pleased to hear that Honda has added physical buttons and a volume knob that makes the system far more user-friendly.
There's also the addition of a hard button to adjust the fan speed, a revamped electronic-parking brake switch, larger cup holders, and improved steering wheel controls.
The Pricing
Although the price for the Type R was originally set at $36,000 when the first models went on sale, the prices have increased since then. However, if buyers are willing to overlook the outrageous looks then a little price hike won't deter any motivated buyers. This Honda is far more refined than its rivals including the Subaru WRX STI and the Ford Focus RS and even manages to move past the Volkswagen Golf R in terms of driving practicality. 
The Civic Type R consists of desirable features including AppleCarPlay, Android Auto, navigation, adaptive dampers, front sport seats, push-button start, and passive entry. There are only a few accessories to choose from including the car colour. 
The Performance
A comfortable ride, near-zero torque steer, a turbocharged powertrain, and razor-sharp handling are what describes the Civic Type R. It may look bizarre, but it zooms past the traffic like a bat out of hell. 295 lb-ft of torque coupled with 305 horsepower make this FWD drive faster than it should. The nonexistent turbo lag combined with a responsive throttle is what gives life to the engine.
Numerous tests have shown the car to reach from naught to sixty under 5 seconds. The precise shifter and easy clutch action are synchronized to perfection. It's a pity that the exhaust isn't as loud or aggressive as the looks. Otherwise, the Type R is one of those rare cars that balance respectable road manners with an amazing trackability. 
Even in the hands of an unaccomplished driver, the car sticks to the road like glue and possess almost telepathic control. It may have a stiffer suspension compared to the Si's; however, it's still surprisingly comfortable. The only downside is the loud impacts felt on rough terrains owing to a low profile and 20-inch wheels.
The Type-R's breaking isn't any less impressive. Some tests have even shown it to go from 70 mph to a dead stop in around 142 feet, a feat that's comparable to some six-figure supercars.
Driver-Assistant Features
Since the Type-R was built for performance, safety is also a primary concern. However, on the racetrack, automated emergency braking and adaptive cruise control are useless features that only add weight, which is why the Type-R skips them in favour of performance. Honda offers a powertrain and competitive limited warranty which covers 3 years or 36,000 miles and 5 years or 60,000 miles respectively.
We would argue in favour of the Type-R, after all, how couldn't you? If it's practicality, comfort, and the occasional thrill that you're looking for; no vehicle does it better than this car.
This guest post was written by the experts over at CarShopper.com. Car Shopper is an online automotive marketplace where buyers can purchase their next new or used car with just a click of the button. They have endless brands and models to choose from. They also offer some of the best car deals in Pennsylvania market!