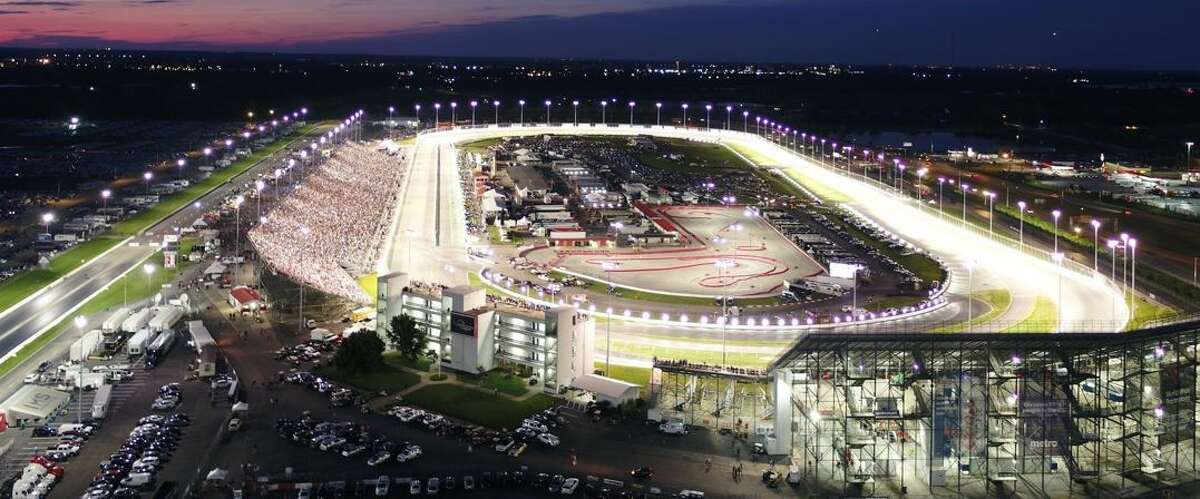 Former race car driver Curtis Francois has committed to reviving professional motorsports in St. Louis. With his strong connections inside the racing world and the state of Illinois, the Gateway Motorsports Park owner has finally brought NASCAR to The Prairie State.
More recently known as the Worldwide Technology Raceway, the 1.25-mile oval is on the Cup Series calendar for the 2022 season and will make its inaugural appearance on June 5. The venue's debut Cup Series race has been labeled 'Enjoy Illinois 300'.
A Decade-Long Venture
It wasn't going to be a simple task, but Francois' vision was to deliver St. Louis locals a top-tier, major-league racing facility just minutes from their homes.
Upon re-opening the gates at Gateway Motorsports Park in 2012, a deal with the NHRA drag racing tour was made. Although redevelopment was in its infancy, significant strides were made almost instantly.
Gateway hosted Manufacturer shows that included Super Chevy and Fun Ford Weekends. Attendance records at the AA Insurance NHRA Midwest Nationals were broken, and the events were grown. While Francois highlighted these feats weren't easy, it was proof they could outpace facilities with long traditions and history.
Ten years to date, the real-estate developer has accomplished the original goal set close to a decade ago by adding Gateway to the NASCAR Cup Series schedule.
"You know, I think with any business venture of this magnitude, there's always going to be a challenge. I mean, in this case, there were lots of challenges," Francois said.
"But of all the business ventures I've been involved with, this has been the most satisfying and rewarding of anything that I've ever done. And I can tell you why: It is incredible to see how our community of racers and fans have come together to pull the rope with us. We never felt like we were in it alone, and there were so many people, really, just as part of the team making it happen.
"We're just elated for the area, the fans, and all those who'll benefit from having a Cup date here." He added.
NASCAR Back in Illinois with Legalized Sports Betting
The Gateway racetrack is no stranger to hosting NASCAR events, but one key difference when the Enjoy Illinois 300 debuts in June will be the sports wagering factor. In the previous twelve months, the United States has undergone an enormous transition in legalized sports betting on and offline.
For the Illinois race fans unable to secure a ticket to the highly anticipated debut of the NASCAR Cup Series, taking advantage of BetMGM Illinois sportsbook for NASCAR betting can provide a newfound level of entertainment whilst enjoying the race.
Chase Elliot, Kyle Busch, or Martin Truex Jr.? As none of the NASCAR drivers has Cup Series experience on the Worldwide Technology Raceway, the intrigue and potential value in the wagering aspect are heightened. Raising the stakes and your fandom during the Enjoy Illinois 300 is easily accomplished when placing a small wager on NASCAR's juicy plus-money betting odds.
NASCAR History with Illinois
The Gateway location is no stranger to hosting NASCAR races, but June 5, 2022, will mark the first date when the track host's a top division in NASCAR.
From 1997 to 2010, the Illinois track hosted fifteen Xfinity Series races, and between 1998 and 2010, the Camping World Truck Series used the Gateway track. And in 2014, under the guidance of Francois, the truck series returned and has continued to run in the oval. In addition, IndyCar and NHRA events have also taken place at the venue.
But why hasn't the elite series in NASCAR arrived at the Gateway track until now?
Gateway's previous owners made life difficult for Francois as they removed scheduled dates and announced the track's closure. As in life, when a business relationship is damaged, the path back to gaining trust can be difficult. When Francois brought the raceway ten months following its closure, relationships would have to be mended.
Steve O'Donnell, NASCAR's executive vice president and chief racing development officer, highlighted the difficulties of resuming a schedule. "It's fairly challenging to get back on the schedule," O'Donnell said back then. "NASCAR is not in the business of pulling dates from someone. So once someone opts out, we fill those venues with what we feel like are going to do a good job and have done a good job; once that schedule is full, it's quite difficult to get back on there."
When Francois' one-year lease on Gateway had expired, he brought the facility, and with full ownership, he was able to position the oval back on NASCAR's schedule. The Camping World Trucks have been steadily performing at Gateway since 2014.
"It wasn't until much later that I understood that it would be as big of a challenge as it would be," Francois commented. "I did not know that Steve had made those comments, and it was probably for the best because I just went about it as saying we're gonna work as hard as we can every single day, put on great races, provide a great place for fans to come out and enjoy racing, and really do the best that we can to integrate ourselves into the racing world. Certainly, you know, it's just great to see that has come full circle and coming back to see that a Cup date is coming to St. Louis."
Francois' has facilitated the Gateway venue with countless upgrades since his takeover. The oval and the drag strip have been recently upgraded, as well as the seating and concession sections of the venue.
"They had a repave a few years ago to the track, and I know Curtis has some plans as you think about the track's future in the next two to three years." Said Ben Kennedy, NASCAR's vice president of strategy and innovation. "So, they certainly believe in the track, and they believe in the market, and I think one of the great things about it is you're so close to the St. Louis area, only a five-minute drive from the arch and downtown St. Louis, and I think it'll be a great crowd once we go out there. The truck crowd is always impressive." He added.