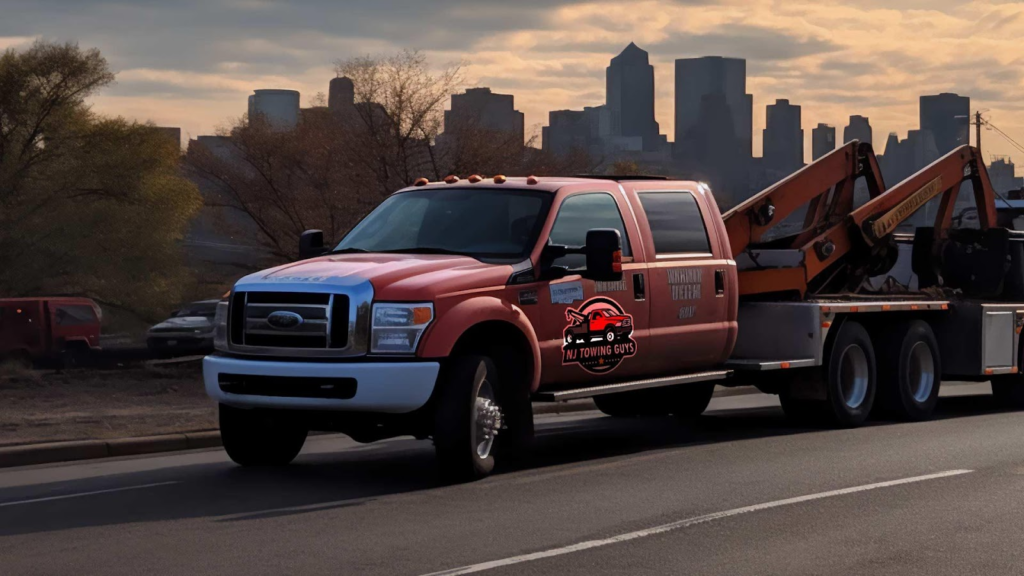 The towing industry deals with high-stress situations for their clients on a daily basis, and often, whether you are a customer, potential client, or just a passerby, you may be wondering about the typical etiquette used when dealing with towing professionals. Etiquette is something that is set in every industry. Still, if it is not a community you are a part of or have experienced, it certainly goes without saying that you may not have an understanding of how to move or behave within the said industry.
When you need a tow truck in Teaneck, NJ, it can be a chaotic and stressful scenario – whether you have been involved in an auto collision or just have a simple vehicle malfunction. Feelings are normal, and being stressed is to be expected. It is absolutely necessary to remember that when you call upon a tow truck driver, you also pull them into a hazardous situation.
Description & Specifications
When you require a tow, whether your car has broken down, you are a property manager dealing with a trespass parking situation, or perhaps you just need roadside assistance if possible – you want to be specific about everything occurring. This means reaching out to the towing company and being thorough when you explain your towing needs, reviewing what is currently happening and the desired solution given the circumstances.
The towing business should assist with an estimate for your needs, and they will ask for your current location, make, model & color of the vehicle, as well as the VIN to verify if, for some reason, you are not present for the services rendered. If you are stuck off the side of the highway, try to find a mile marker near the shoulder or forward over the exact location of your vehicle. This will help to smooth out the entire process and make all things easier for you and your tow truck technician.
Polite Communication
People rely on communication daily, and it is especially essential when you are asking for support or help. Communication is a means to connect with other people and provide the necessary information, social cues, and behaviors that help indicate the message someone is trying to convey. Towing companies work with all different types of people, and sometimes there is a language barrier. People are in a chaotic state of mind, making communication challenging, and sometimes the translation is lost.
Be precise and polite when communicating with towing dispatch or your tow truck driver. You must remember dealing with other human beings and treating others how you would prefer to be treated can create a healthy environment between two individuals. Try getting to know your driver and answer any questions they may have that can help push along with the towing process. Don't forget that your driver is there to help you out – so ask any questions you may have as well!
Give Tow Trucks a Little Space
If you don't necessarily need a tow truck, you may end up speeding past one along the highway, roadway, or private drive. Tow trucks are required daily across New Jersey and are called upon for different reasons. These trucks sometimes pull rather large vehicles, which creates a situation in which everyone involved or nearby needs to take precautions and remain vigilant about safety.
Tow trucks use flashing lights, cones, and various protective devices to alert drivers of their presence. They often have specific guidelines printed on the back and sides of their vehicles. If you are driving by, the first thing you should do is slow down – there are people at work on the open road, and being aware of this will help avoid accidents. Next, you will want to switch lanes; an additional space lane will provide the towing technician and client peace of mind and security during their service. Lastly, use caution – treat it as if you are driving in a school zone or neighborhood as you pass by.
Respect Goes a Long Way
Towing professionals are there to assist their clients by any means necessary, and they have multiple responsibilities to handle along the way. It is a towing technician's priority to remain empathetic and provide respect for every single one of their customers because this will benefit everyone involved. This also goes for the customer – respecting and being polite toward your tow truck driver will help create a friendly environment.
While you may be in a stressful situation, your driver is experiencing similar circumstances, and they are putting their efforts towards providing a resolution. Sometimes when people feel stuck in the middle of high-stress scenarios, they can become short and not quite as respectful as usual. This can interfere with communication and complicate the towing process, which is the last thing anyone wants to deal with. 
Towing has its ups and downs for everyone involved, but it is pertinent to remember that human beings work together towards a common goal. Professional tow truck drivers work tirelessly to ensure that they can resolve any problem before them. Drivers are multi-taskers, and they make it their priority to complete every towing service effectively and efficiently while also providing exemplary customer service, administrative work, and equipment management.
The New Jersey Tow Guys are composed of elite tow truck drivers who offer their own standards of etiquette for clients and customers in Teaneck, NJ, and the surrounding neighborhoods. NJ Tow Guys is dedicated to their towing services and aims to provide modern towing solutions no matter the situation. Next time you need a tow or require towing services for other reasons – don't forget the keys to communicating with towing experts and allow those drivers to take the stress off your shoulders!