So the other day I shared the leaked pictures with you regarding the new
Black Series C63 Mercedes by AMG
. Today I have come across the even darker and meaner looking Mercedes C63 AMG Black Series WITH Track and Aero package. That is quite a name I must add. The track package part incorporates very track ready Dunlop rubber and a differential cooler in the rear bumper. The Aero package can clearly be seen with carbon fiber pieces all over the front bumper and one serious carbon rear spoiler which can be adjusted to suit the track and/or driver. There are no power upgrades on this and I really think this car has more than enough (510bhp). Merc's have always been boring to me but this is absolutely, insanely bonkers! Easily the best looking Mercedes Benz I have ever seen.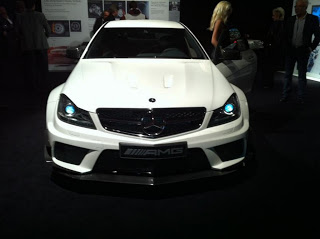 Something out of Transformers… Literally!
Look how aggressive the front end is!
Do yourself a favour and listen to the sneak preview of this absolute MONSTER!