One Unlikely Matchup: Nissan GT-R vs Jeep SRT-8
Dragtimes on YouTube have released another video of a very strange match up. You would never think to compare a Nissan GT-R to a big heavy Jeep SRT-8. Ok fair enough both are not exactly standard but even that is something to consider in this race. Watch the video and check out my thoughts after clicking read more.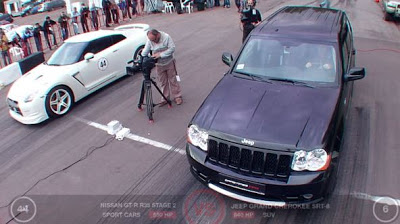 I cannot beleive how the Jeep manages to keep up with this monster of a Nissan. Had the jeep got away better off the line, it would be almost a dead heat if not pip the GT-R. Crazy stuff.