The Mother of Overkill SLR 999 Red Gold Dream
So the entrepreneur and clearly crazy man, Ueli Anliker, has put his absolutely ludicrous McLaren SLR up for sale. So you wondering what the price tag is? An astonishing $11 million. The exhaust tips, door handles, logos, radiator and rims are all coated in 24 carat gold. 600 rubies have been used in creating the car coming to a total cost of $5.4 million.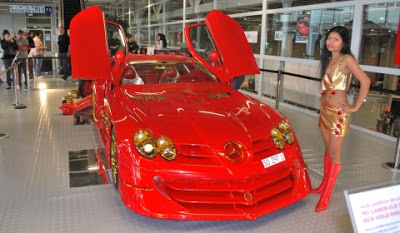 The horrific looking bodykit makes any FAB design look subtle and the front spoiler extends the length of the car dramatically. At 350km/h the front spoiler adds 100kg of downforce and the rear boomerang spoiler adds 150kg. The car was finished with 25 layers of paint to give it that disgusting red look.