I had to buy a car recently – my trusty Toyota Tazz was vaporised in the dead of night by an ambulance whose driver fell asleep at the wheel and drove it straight into my parked car, writing it off. I wanted to buy a used car, but I REALLY didn't want to have to go through the absolute pain of buying a car off a random stranger who would tell me anything to sell their car because they can't wait to be rid of it. So I decided to buy a car through a dealership. Knowing that some dealerships can also be dodgy as anything, I decided to go through a well known dealer. One that needs to be responsible to maintain their good image. One that can afford to advertise on TV. If they can afford to drop a couple of million on a TV ad, they must be doing something right to have happy, paying customers. So I chose Imperial Select.
Imperial Select sell new cars and used cars and are a well-known car dealership in South Africa. They are responsible for a large chunk of the country's car sales, partly because they have a good sales technique, but mostly because they are so widespread. They have branches all across South Africa. I had a veritable pick of the litter when browsing through the cars they had on offer. You see, Imperial Select don't just have a presence throughout the South African landscape; they also have a presence on the World Wide Web. If you have ever been to the Imperial Select website,you'll know all about their very extensive online directory of the cars they have available. If you haven't, go and take a look. The directory had a complete list of cars available, plus photos, specs, and everything else I needed to get excited about potentially dropping a nice
insurance payout on a slick little model.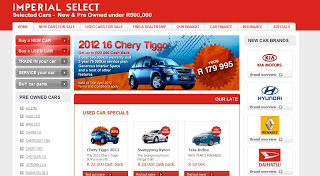 I found a car that I liked at my local dealership actually. It was a great price and had all the specs I wanted. I popped down to see it, took a test drive and bought it. Easy peasy. If you're looking for a new or used car, I suggest going through a well-known dealership like Imperial Select; it just makes life so much easier.