Maybe you've heard of the Yungas Road in Bolivia – it's called the Death Road, as it is believed to the cause the deaths of 200-300 travelers each year. Can you imagine? A road so unsafe, so treacherous to pass, that the Inter-American Development Bank dubbed it "the world's most dangerous road." Not exactly a title many countries want to see attached to their name, but what might surprise you is that there are roads in the U.S. designated as "slaughter alleys," with much the same lethal reputation as the Yungas Road (though often for different reasons). Head-on collisions, struck pedestrians or inclement driving conditions: these are all part and parcel for the most dangerous roads in America.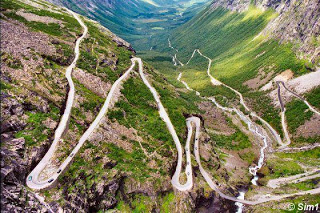 U.S. Highway 6 – Near Bolton, Connecticut
Highway 6 is actually the second-longest highway in the U.S. (after Route 20), spanning 14 states from California to Rhode Island. It's not until the expanse near Bolton, Connecticut, however, that the road has more sinister connotations, with locals dubbing it "Suicide 6." In 1997 alone there were 69 accidents along this stretch, two of them fatalities. Fifty percent of the traffic alone Suicide 6 is through traffic and residents who live along the road complain that it is difficult to get in and out of their driveways. The highway is punctuated with frequent speed changes, turns, lack of shoulders and few passing opportunities, plus local bus school bus stops on week days. While the local, state and federal governments squabble over proposals to improve visibility conditions, people continue to get injured along Suicide 6.
I-26 – South Carolina
Since 2002, South Carolina's Interstate 26 has seen an average of three fatal wrecks per mile – and it's about 10 miles long. Crosses and memorials along this road are common sights, with nine fatal wrecks in 2009 alone. I-26 has seen head-on collisions, drunk drivers and many – too many – cars that slammed into trees or caught on fire or overturned. It's a sobering and tragic reality and one that isn't simple to explain. I-26 certainly isn't the busiest road in South Carolina, though it does connect Charleston, Columbia and Greenville-Spartanburg. It rains occasionally, but most of the accidents occur during dry weather. And the land surrounding it comprises mostly of forests, private homes and farms. Some suspect it's that very quietness of I-26 which causes so many accidents – it lulls drivers into a sense of safety or the boring landscape makes sleepy drivers even more likely to nod off.
U.S. Route 550 – Ouray to Silverton, Colorado
Known as the "Million Dollar Highway," the stretch of Route 550 which runs between Ouray and Silverton in Colorado takes you through three San Juan Mountain passes along an S-curve winding road with two-lane traffic. There are steep cliffs, narrow lanes and sometimes a total lack of guard rails. Thrill seekers and daredevils might love the feeling of danger, especially by motorcycle, but for most, it's a white-knuckle experience. While the sights around you are no doubt impressive, it's best to keep your eyes on this road, especially in late fall, when animals often dodge out into the street. While the Million Dollar Highway can often be shut off during the winter, travelers should beware that even when opened, the road lies exactly in the path of a major avalanche zone. Buckle your seatbelts, folks.
Dalton Highway – Alaska
Like the Million Dollar Highway, the 414-mile Dalton Highway (Alaska Route 11) affords drivers breathtaking views and exquisite natural scenery, especially near the Brooks Mountain range and as it crosses over the Yukon River. It's a rather remote highway, with only three villages along the way whose populations combined total about 60. The Dalton Highway runs parallel with the Trans-Alaska pipeline and much of its traffic comes from trucks. Speaking of trucks, the History Channel's "Ice Road Truckers" prominently features the travails along the Dalton Highway, portraying it as prone to low visibility thanks to high winds and snow. The road appears on the show as frigid, pocked-marked with pot holes and often treacherous thanks to huge clouds of dust. The reality is … the same! It's not a very pleasant drive, even for the most experienced trucker and it was featured on the BBC program "World's Most Dangerous Roads." Signs along the Dalton Highway warn of steep grades and even avalanches.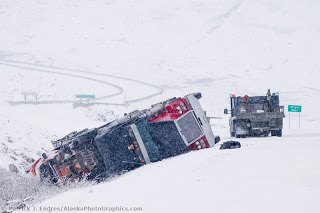 About the Author: George Robbins writes on car safety; When he's not doing just that, he's trying to make his own automobile safe, upgrading his Honda Civic catalytic converter; he often turns to the site PartsGeek to purchase items.