Let go of your sense of reality, and open your mind to what the future of the automobile industry is to become in the coming decade and beyond. BMW introduces the concept model of their future, the i8 Spyder sports car. It is unlike any sports car we have ever seen before, it still wields a combustion engine but it is supported by a Eco friendly electric drive.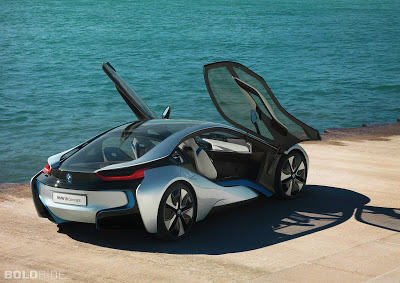 The BMW i8 concept model is run off the all new BMW eDrive technology, which is driven from an electric motor, well-engineered battery technology and a TwinPower Turbo engine, combustion engine that is. Yes the electric motor and combustion engine work as a team to make this new concept vehicle tick. The Spyder concept will drive behind the force of about 350 horsepower, all while maintaining a jaw-dropping 100 mpg combined fuel-economy. Got to love the power of electricity, when done right!

This two-seater looks sharp, and it looks like something straight from the digital world in the movie Tron, or even the fictional future based world of Total Recall, but still not as cool as the Delorean of course in the Back to the Future Series. With clear all around view to lessen blind spots and the convertible look is another great upgrade from the base i8 model. The design is based on the Vision EfficientDynamics concept that BMW has been working on for sometime. The Spyder is just a limited trim level of the regular i8 concept model that BMW is designing. The base i8 is almost 100 horsepower lower, but still can get you from zero to sixty in well under five seconds. The architectural design, LifeDrive give the i8 Spyder perfect center of gravity by placing the electric motor securely above the front axle, and towards the rear axle the combustion. This balance will give the electric sports car a performance that will leave the driver emotionally attached.
The manufacturing of these i8 models along with the smaller i3 will begin in 2013 sometime. The value of each is still uncertain, taking into part that BMW is a luxury brand and this is a breakthrough, technology wise—we can safely assume it will be quite costly for the average consumer. For those of you who are looking to just purchase a BMW that is current, or a used model you can check out DC areas best dealer, BMW of Rockville.