Highest Optioned Cuda Known to Exist
Rumors of cars such as this one, as well as its history, are what myths are made of. Yet this is no myth, but a pure juxtaposition of a wealthy rural country boy and his longings for speed and recklessness.
This pristine, all-original 1971 'Cuda was ordered from Ed Owens Plymouth in Winston-Salem, North Carolina by a young Zach Reynolds to be the center piece of what would become the largest private motorcycle and muscle car collections in the world.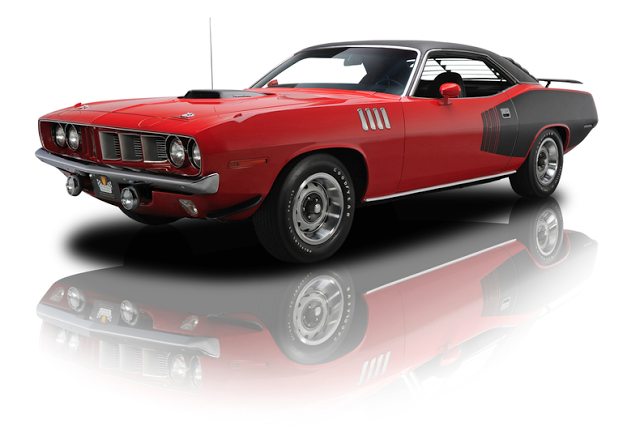 Zach hailed from a wealthy and politically prevailing family for which money was no obstacle. Zach was the grandson and heir of RJ Reynolds of RJ Reynolds Tobacco. The Reynolds family was already the topic of national conversation in the early 1900s, but not the good kind. In the 1920s Zach's dad, Dick Reynolds, and the uncle Zach was named after, highlighted the speculations by becoming well-known members of New York's Gotham club scene and transporting Mafia bootleggers on their personal planes. Eventually, Zach's uncle died under mysterious circumstances, and his father could not satiate his taste for adventure and ended up signing up for the Navy and meeting other women. Zach's mother divorced and was now left with the task to raise him on her own, giving young Zach 22 miles of fenced in property to hone in his skills as a marksman. By the time high school rolled around, Zach was a prominent motorcycle racer. He ditched college, joined the Navy like his old man, and after his four years were up, he began building his car and motorcycle collection with his family's trust funds.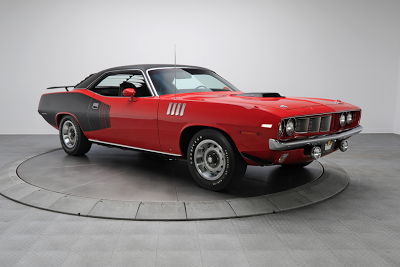 The car is an allegorical reflection of Zach's life. The most prevalent and highly optioned 'Cudas ever built from the factory. The car's history is fully documented; much like those obsessed with Zach's life maintained his history. Documents include original broadcast sheet, factory punch card, original two-page window sticker, copy of Zach's original title for the car, and a 1985 NC state inspection that shows the car had only racked up 1,928 miles at that time, among other items.
Covered in Rallye Red from factory, you can still even see slight outlines above the door handles where Zach had his name painted. It would remain that way with skulls and American flag decals all over for 30 years, until a high-profile collector, Steven Juliano, would buy the car from a Winston Salem museum and scrape the decals off with his fingernails. After a mild buffing compound and a thorough polish and shine, all that remains are mere outlines of "ZACH."
Zach spared no expense on the car. If a $900 HEMI option was not enough, being the audiophile he was, a microphone jack and recorder was even added to the option list. Inside the car a rare split bench front and full bench rear seat combination displays virtually no wear at all.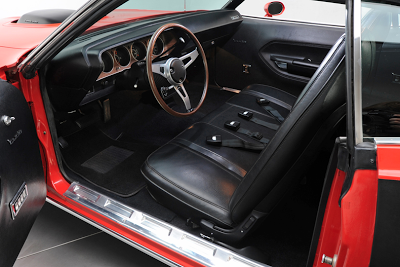 The 'Cuda now has only 2,010 miles. The 426 HEMI mates up to an original, untouched A727 Torqueflite 3-speed transmission that puts power to the original Goodyear Polyglass tires through an untouched Dana 60 rear end with factory 4.10 gears. Fumes are emitted through an original, untouched Chrysler dual exhaust, and as the highest optioned Hemicuda known to exist, this is every Mopar enthusiast's dream car. Add its well-documented history, including that of such a prolific previous owner, and you have the most rare 'Cuda in existence, and probably one of the coolest muscle cars in existence.
Today the car rests its still bones in Charlotte, NC on the showroom floor of RK Motors Charlotte. The general public can see it on Saturdays, or by appointment through the week. If you think you are ready for such a car, it can be yours for a cool $2,499,900. Rk Motors has an awesome inventory of classic and muscle cars. Just their line up of cudas for sale along is stunning.