The new Fiesta ST is developed by the Ford Team RS, who are responsible for Ford's high performance vehicles (which I am sure you knew). They have taken their time with the latest hot hatch and you can be sure that the new Fiesta ST will be a lot of fun and provide potent performance.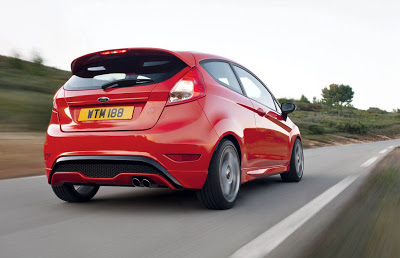 Performance
They have fitted the car with one of their new EcoBoost engines which means great performance but at the same time being fuel efficient. The 1.6-litre inline-four engine delivers a healthy 177bhp which means you can hit the 100km/h mark in less than 7 seconds and go on to a top speed of 217km/h.


Looks
I feel the looks compliment the new Fiesta and with that large Aston Martin'ish' grille you will know that this car means business when you see it in your mirrors. The car has been lowered by 15mm compared to the standard Fiesta which allows the car to be much more balanced at higher speeds. The body-kit contributes to the overall look of the car and the sporty side is finished off very well thanks to the diffuser, twin exhausts and roof spoiler.
Interior
The interior continues with the sporty stylish look and really goes the extra mile with the two-tone leather Recaro racing seats. The freshly designed dashboard will make sure that you as the driver will always feel like you are meant to feel in one of these so called 'hot hatches'.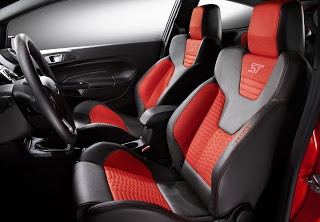 I think Ford has done a fantastic job on this new little sporty number and I would recommend it to many first time 'performance' buyers or anyone for that matter.