With Father's Day looming large in the UK, many sons and daughters will be scratching their heads trying to come up with something to show their dear old Dad's how much they mean to them. The problem is – what do you buy your Dad?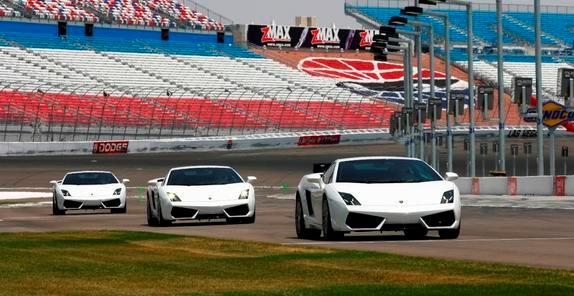 Mum's are a lot easier to buy for because they drop hints or "could always use that around the house", but Dad's seem to have everything they could possibly want and don't drop any hints at all. They might already have drills, lawnmowers and football shirts, and with only summer sports to keep them entertained at the moment going to watch a match is somewhat limited, (unless you like cricket).
There is one great option for any "sporty" Dad, and that is a track experience. If they're really into their motorsport or watching shows such as Top Gear then they might love to actually give it a go for real. Sure, you could go Go-Karting for that racing thrill, but there's nothing like jumping out of the family car and getting into one of those dream cars he would have if he won the lottery or that he's read about in Big Motoring World News.

So, now you think this might be an option you're probably wondering what sort of cars are on offer. It's a lot different to the showroom models you've seen in the local town, or even to the sort of car he's driven all his life. It's a whole new animal!
Aston Martin DB9
The ultimate car for the ultimate James Bond fan – and anyone who loves the speed and styling of the Aston. The DB9 has one of the best sports car engines ever put inside a vehicle, with its 6-litre V12 producing a top speed of 186mph and reaching 60mph in 4.8 seconds. Famous for being the car driven by James Bond, it's ideal for anyone who loves to pretend they're a supercar driver by day and superspy by night.
Audi R8
Arguably one of the most beautiful cars ever produced, the Audi R8 will take your breath away before you've even started the engine. The 4.2litre V8 engine produced 414bhp and a top speed of 187mph, enough to make your Dad feel like a kid in a sweet shop again!
BMW M3
Used at many circuits as the safety car, the BMW M3 is still an animal. The power that comes out of the V8 engine is astonishing and will rival any of the supercars for speed and handling with a top speed that is limited to 155mph, reaching 60mph in just 4.6 seconds – faster than an Aston Martin DB9.
Ferrari 458
Is your old chap a fan of speed, style and power? Then the Ferrari 458 is the one. Reaching 60mph in just 3.3 seconds, the 562bhp model is one of the finest to have ever had the prancing horse stamped on the front. More importantly, why wouldn't you want to say that you've thrashed a Ferrari around a race track??
Lamborghini LP640
The replacement for the world famous Murcielago has gone down a storm on tracks around the world. The sheer power and speed of the 640bhp V12 Lambo is the ideal experience for a Dad who loves the bright colours and elaborate styling associated with Lamborghinis, and the prospect of opening it up down the straights and throwing it into the corners.