At some point in our lives, everyone should own a sports car at least once, purely for the utter joy of driving a fast, fun and fantastic looking car. For many of us buying a high powered supercar is way out of our price range and may seem like a far off dream. There's not many people who could afford to splash out on a Ferrari Enzo or a Lamborghini Gallardo but there is still a whole host of affordable sports cars out there that can really pack a punch.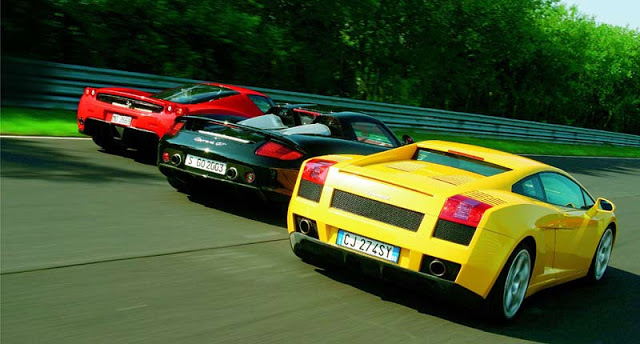 If you're considering investing in a sports car there are a few things you need to consider before you take the plunge:
1. Will a Sports Car Really Suit Your Lifestyle?
This is a vital question you must ask yourself and you need to be honest! If you plan to transport more than two people around in your car or you'll ever need to do the weekly shop in it, chances are a sports car isn't very practical due to their teeny boot and lack of back seats. However if your flashy sports car is going to be a weekend car or its just for you to commute in during the week then it could still offer you the practicality you need.


2. Convertible or Coupe?
This is simply down to a matter of preference; when it comes to sports cars you usually have two choices, a closed roof coupe or an open roof convertible. The sun lovers will often opt for a convertible but you do need to bear in mind the safety issues that come with this. Over recent years convertibles have become a lot safer, incorporating much stronger A pillars and pop up rear roll bars to protect passengers.
3. Front or Rear Wheel Drive?
When choosing a sports car you need to decide whether you want front or rear wheel drive, most sports cars are rear wheel, offering the driver the best possible handling. However rear wheel drive cars can be tricky in icy or snowy conditions, requiring a skilled driver. Although front wheel drive cars are not as common there is still a variety available including:
Honda CR-Z
Volvo C70
Volkswagen Scirocco
Audi TT
4. Fragile Vs. Fierce
Sports cars can look awesome, have an impressive BHP and sound like a tank, luring you into a false sense of security that they are as strong and sturdy as they look and sound. There are a few sports cars that have built up a reputation of being a little on the fragile side, for example the Porsche Boxster and the Volkswagen Eos are ones to look out for.
Sports cars with an excellent reputation in the safety stakes include:
Audi TT
BMW 1 Series Convertible and Coupe
Audi A5 convertible and Coupe
Mazda MX-5
5. Which Sports Car?
If you're looking for a budget sports car there is a plethora of makes and models to choose from. If you're looking for something that looks fantastic, is great fun to drive but is also within your price range here's a few sports car to consider:
Mazda MX-5
MG TF
Volkswagen Scirocco
Honda CR-Z
Hyundai Veloster
There are also a few golden oldies than can be purchased second hand for a fairly affordable price:
Caterham Seven
Porsche 944
Lotus Elise MK1
Nissan 200SX
BMW 328i
Once you've got a plan in mind of exactly what you want from your new ride you can start searching for your new set of wheels – happy hunting!
This post was written by Meredith Watts, she recently purchased a brand new Volkswagen Scirocco with the help of car finance experts Moneybarn.