You've just picked up your McLaren MP4-12C and brought it home. It's quite a marvel to look at, and you feel personally attached to it. You'd like to refine it just a bit more to make it yours? You can. Thanks to modifications made by several aftermarket companies.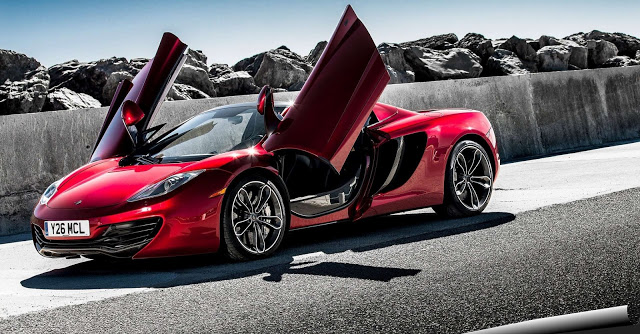 It has all the things one would desire; mid-engine layout, mammoth output from the engine, special transmission, lightweight construction with special materials, a tuned suspension and doors that pivot up from the pillar in front of the driver. It holds just two people and a little luggage at 5.1 cubic feet. But then you weren't going to take the family to Disneyland in the MP4-12C. It's available through a network of 35 retailers in 19 countries.

The engine is a 3.8-litre, twin-turbocharged V8 producing 592 horsepower and 443 lb-ft. of torque. The power flows to the rear wheels through a seven speed, dual-clutch manual automatic transmission. Zero to 60 mph goes by in 3.2 seconds. The MP4-12C gets 15 mpg in town and 22 mpg on the road.
The car weighs 2,945 pounds with the carbon-fibre chassis weighing in at just 165 pounds. It's 177.5 inches long, 75.1 inches wide and 47.2 inches high and has a wheelbase of 105.1 inches.
The hood lies several inches below the top of the headlights and air scoops reminiscent of a hockey goalie's teeth are on each side under the headlights. The sides are dominated by two mammoth air scoops on each side just behind the doors. The lines flow as they should from front to back. The rear seems a little cluttered with wing, taillights, license plate and exhaust pipes coming out mid-way up the back. The Spider loses the roof line and looks even better.
Standard and optional features include a real, active air brake that sticks up at the back to pull your speed back down and push the car into the ground, 19 inch wheels on the front and 20 inch wheels on the rear, three driving modes including a system that brakes the inside rear wheel during corners, parking sensors, lightweight wheels, stability control, carbon-ceramic brake calipers and cup holders.
The noise from the engine when the right foot hits the floor commands attention. The cornering will shift your spine several inches to one side. There's no body roll at all; no dive, no roll or squat.
Let's modify it a bit, just to make it ours. First, a high performance exhaust system with a 200 cell high-flow catalyst converter and a reprogrammed engine control unit, bigger wheels by one inch front and rear and a lower stance thanks to special lower springs. The final product has 724 horsepower and 552 lb-ft. of torque. The best modification is a full body enhancement for US$25,000 that includes a front bumper with lip spoiler, a new diffuser at the rear and side skirts.
McLaren sells two versions of the MP4-12C; hard top and retractable hardtop convertible. The convertible weighs 88 pounds more than the hardtop. The extra weight is needed to keep the body stiff. You will have to keep it below 196 mph with the top down. Aerodynamic considerations will keep it from reaching its 204 mph top speed.
What if you can't afford a McLaren MP4-12C? Is it possible to get that extraordinary feeling from a car less expensive? Yes. Look through the new and used car dealership in Newcastle for a Porsche 911, a Mercedes Benz A45 AMG or a nice Mazda Miata that you can upgrade.