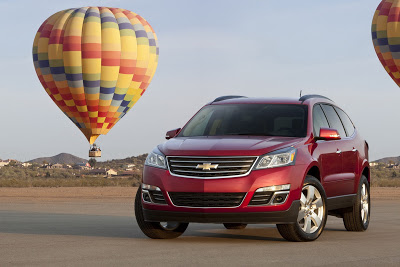 The cross over type of vehicle has gone a long ways throughout the previous years. This is mostly due to the handling, size, and their safety. A lot of times you will have one or two of these three attributes but not all three in one and this is why the 2013 Chevy Traverse is one of the most talked about vehicles out there. Not only does one or two companies believe this is one of the best automobiles out there but many more are willing to back it up, mostly do to the fact that it can keep everyone riding inside it safe and sound.

What is better is that the National Highway Traffic Safety Administration honored this Chevy Traverse with a Five Star Safety Rating which shows that it is one of the best on the market. This is one of the highest honors that any vehicle is able to get. The Traverse boasts six airbags, OnStar, and StabiliTrak which calls for having it be recognized throughout the automobile world. This not the only reason that this vehicle stands out. They have many other attributes that people love such as the clear, crisp sound system with other entertainment options such as Pandora Radio and being able to use a bluetooth. There are many other things to think about during your road trip as well that you might want to use.
The Traverse is also known for being able to handle camping trips, large family outings and has a large utility range that should be boasted about. The cargo space is expansive and impressive at 116.3 cubic feet. Not only that, but you can fold down the rear seats and create even more room if you need to move something large. The engine is a V6 instead of V8 so it gets power, but not enough to suck out the gas from driving around in it. This is backed by 281 horsepower and allows you to speed easily so make sure to watch out! You can bring the gear, the kids, and go on an adventure where you all fit without having to worry about how you're going to fit everything in. We took our family for a trip in ours from Reedmantoll.com dealership.
This is one of those vehicles that you just might want to take a look at if you're in the market for a new vehicle. This one has all of the space and power that you need, backed by a safety guarantee that you cannot refuse. Definitely worth taking a look and deciding whether or not you can see your family heading out in one of these.