On every rich person's bucket list, somewhere in the mist of all the variety they can think of, you will find something that has to do with a car. That something will be to pay $459 000 on the Viper GT3-R. A model which you may never see at a local dealer like Lynch. You can't take it for a spin just anywhere but to take a picture with it, and show proof that itis yours will put you in the legendary hall of fame of individuals who've spent colossal amounts of money on vehicles. But what's more important than the price is if the experience, comfort, powertrain, and everything else is worth it? Let's take a look at the specifications that only a small percentage of people in the world can really consider over dinner at Barclay Prime (serves $100 cheesecake).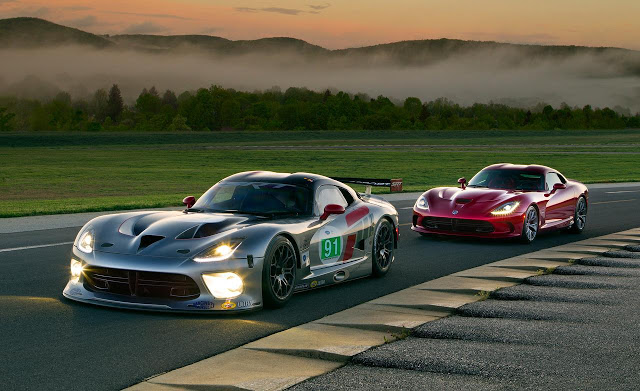 Under the hood the SRT Viper GTS-R is powered by a 9.0-liter V10 engine that produces between 48-490 horsepower, reaching a top speed of 185 mph. It features a trans-axle mounted in the rear, with paddle shifters on the steering wheel to conveniently and efficiently change gears. Tubular header exhaust system, which is one of the finest, and in appropriation to the Green Initiative program a Fuel- #85-110-liter tank is required. Brakes are the top of the art Brembo braking system. One of the most important components to the vehicle, as well. It features Caliper front and rear, 6-piston and 4-piston. The Rotors are 2-piece cast iron. Cooling ducts provide air to keep the brakes cool and reduce fade and wear on this race horse. Leading us into the aero portion of the presentation.
What really puts the SRT Viper GTS-R on anyone's wish list are the aerodynamic refinements. The rear wing helps with overall down force, but the cooling ducts reduce drag and ad additional down force. As the vehicle gains speed, the front fascia plays a role in aero effects as it and the splitter were moved forward. In addition to blowing your mind with undeniable speed, handle, and appeal, the SRT Viper GTS-R has the requisite safety features required by U.S Law. I don't think it has any other flaw besides the fact that we can't pick up our dates in this Dodge legend. The best match for this vehicle, one that you may take on the road, would be the Lamborghini Murcielago which has a base price of $450 000.