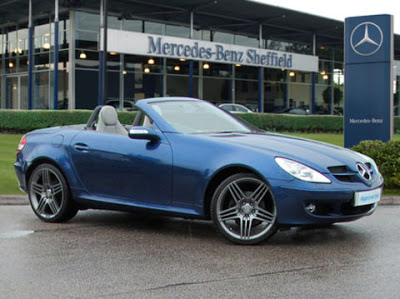 Mercedes Benz has long had a reputation for quality engineering and superior styling. However, paramount in the minds of Mercedes' designers has always been the safety of their drivers. We look at safety developments which are now incorporated into Mercedes vehicles and make them one of the safest marques to drive, according to Euro NCAP (The European New Car Assessment Programme).
Distronic Plus
Driving too close to the car in front is one of the major causes of rear-end shunts. Mercedes' Distronic system pre-warns the driver of any unexpected obstacles in front and automatically keeps the car at a safe distance. This is particularly useful in city driving. The system monitors what's going on, on the road in front and can identify up-and-coming accidents. Two short-range radar sensors are mounted behind the front bumper panels. These constantly scan ahead of the vehicle. One additional radar is located behind the radiator grille for mid-and long-range sensing.

Pre-Safe Braking
While Mercedes' Distronic plus system automatically locates the source of danger, its innovative Pre-safe braking system slows the vehicle, alerts the driver and can bring the car to an effective and quick stop. Using advanced technology, it can apply up to 40% of the vehicle's braking power before the driver can even respond. Braking is smooth and comfortable, with a deceleration rate of 4m/sec2. As soon as the driver touches the brakes in response to the imminent danger ahead, the system engages 100% of the vehicle's braking power. If the driver does not respond the system has the ability to bring the car to a full stop of its own volition.
Attention Assist
Over 90% of road accidents are caused by excessive speed and lack of attention or fatigue. Mercedes' engineers recognise this and have developed a system which observes your individual style of driving by noting over 70 individual unique driving parameters. This is amply demonstrated in the Mercedes SLK. Within the first ten minutes of any journey the car notes your individual driving style and, as you continue, it detects early signs of drowsiness by analysing steering corrections you may make. It also takes into account other factors such as weather and road conditions and even how you interact with the vehicle's internal controls. If it considers that you are in danger of falling asleep at the wheel it will sound an alert which encourages you to take a rest stop at the earliest possible opportunity.
Active Blind Spot Assist
We all know the mantra, "Mirror, signal, manoeuvre," from when we were learning to drive. Mirrors form an invaluable part of any motorists defensive driving armoury, alerting us to what's going on behind and to either side of us. However, in any vehicle, there is what's known as a 'blind spot' from which danger can spring. Mercedes' designers have developed a solution to this which alerts drivers to vehicles alongside them. Radar sensors, mounted in the rear bumper, cause an icon to light up in the side mirror giving you a visual hazard warning.
Mercedes Benz produces some of the most beautiful cars in the world. Thanks to their continual development, you can rest assured you're also driving in safe style.