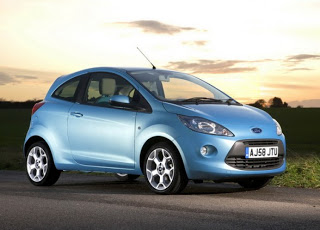 Despite the fact that the world of hatchbacks can be extremely competitive, drivers are fortunate that every few years a company edges out the competition by developing a car that is superior in many ways. Whether it be features, handling, or a combination of the design and engineering, buyers get to come out on top. The latest example of this kind of performance is the Ford Ka available at Bristol Street Motors Birmingham. Although it may be new to the market, it seems to have eclipsed the learning curve.

The first of the advantages that draws people in and pushes the competition out is that it is inexpensive in terms of both driving and buying. It offers utility while not cutting corners on the side of economics. The body is not what people are accustomed to seeing when it comes to conventional designs for a hatchback, but no one can ignore just how much fun it has to offer once you are behind the wheel. For a base price of under £7,000, the dynamic steering, adept handling for the city and space that comes in return makes it a great buy.
There are some cons associated with the Ka, however. The 1.3-Litre engine that works great in urban areas can get a little overwhelmed when you hit the motorway. The cabin noise can reach levels that are higher than one would normally expect from a new Ford. Nonetheless, the small worries that are likely due to a lack of time for Ford to refine the design should not deter buyers from this offer.
Ford has also put the driver first by offering six different models of the Ka. The lowest of these is stripped down and focused on utility, however, drivers have the ability to get as flashy as they would like with the high-end models. At the top of the spectrum, the Ka comes equipped with leather throughout the interior, 16-inch alloy wheels, and remote central locking. There are also over 12 different colours to choose from, making the Ka a car that truly be made to reflect one's personality.
When you start comparing the Ka to other popular minis on the market, doing the math truly makes the strongest case. Even models that up the performance of the engine such as the SportKa, hold their own against the stiffest competition. All the car servicing from Bristol Street Motors Birmingham for the engine is affordable and is only required every 10,000 miles. Additionally, it depreciates very little in value over time. Combine these factors with low insurance costs with a surprisingly low sticker rate and it really comes as no surprise that this vehicle has people talking when it comes to the manufacture, who is really making innovations in hatchbacks.