Many of us pride ourselves on our DIY skills and will happily have a go at putting up a shelf or doing a spot of tiling, after all, what can really go wrong?
The answer usually is; nothing that can't be fixed, but when it comes to your vehicle, having a go is often not an option and can lead to a whole host of problems so it's best to consult a professional who knows exactly what they are doing.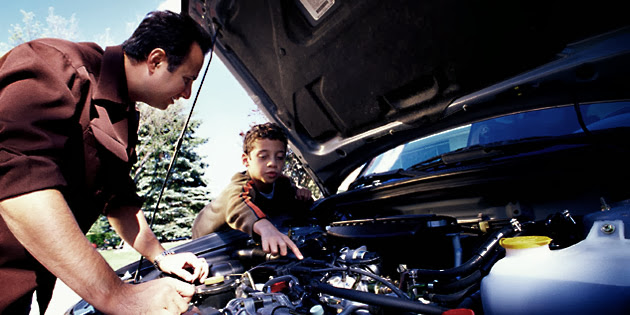 Of course, changing a bulb or changing the oil in a vehicle are easy to do at home, but other tasks are too difficult or dangerous to carry out without a professional. So, what should you turn to an expert for?

Recharging your air conditioning
In hot weather your air conditioning takes a bit of a pounding and it is only natural that over time it loses gas and an air conditioning recharge should take place every two years to keep your vehicle in perfect working order. A drop in pressure within an air conditioning system can result in a loss of cooling efficiency and make an engine work harder and use more fuel, which can be a costly situation. Due to the complicated nature of checking and recharging air conditioning it is important to consult a trained technician, who can perform the job quickly and have you on your way in a cool environment, which is much-needed during the summer months. If this is something you're struggling with you can find more information here.
Aligning your wheels
Wheel alignment is another significant issue with a vehicle and is certainly something that you should consult a professional on. The problem can occur for a number a reasons, such as driving over a pothole, speed bumps or having a close encounter with a kerb and can lead to a vehicle pulling across the road, an increase in fuel consumption or premature wear on the tyres. Modern suspensions require very precise wheel alignment which can only be achieved by a professional and a computerised system, so it's always best to have a trained technician correct the issue.
Fixing your brakes
The brakes on a vehicle are of paramount importance and attempting to repair or alter them yourself could have disastrous consequences, so it's essential that these components are checked by professionals. As you never know what's around the corner it's important to have peace of mind that your car is safe on the roads.
Consulting professional services to check and repair brakes is vital from a safety point of view as it ensure that the car is roadworthy and safe for drivers, passengers and other road users alike.
Balancing the wheels
Unbalanced wheels can make driving a car very uncomfortable indeed and even the slightest problem can create significant steering wheel vibrations. Modern equipment used by professionals can balance wheels to the nearest gram, making sure that your driving experience is as enjoyable as possible, while reducing premature suspension and tyre wear.