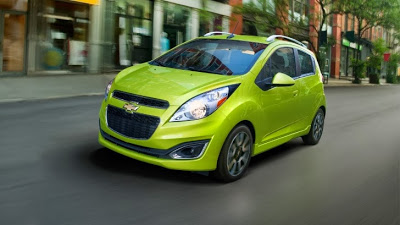 If you think this little 2014 Chevrolet Spark is little, think again. It is a lot of car packed into a little package. Start with the outside and color choice. Chevrolet really spices up these colors. Of course there is your basic black, called Black Granite. The White is called Summit White, (just like a pure white snow fall). The silver color is called Silver Ice. From there, the basic colors get vibrantly wild. The green is called Jalapeño, (yes it is hot). The blue is called Denim, (easy to slip into that color). The purple is called Grape Ice. The red is called Salsa, (Oh yes! It is for sure hot). The yellow is called Lemonade, (It really looks cool). Any one of these color choices will turn heads as you drive down the road.
This little 2014 Chevrolet Spark has big choices. When you walk into a dealership to shop you will have available six trim levels. They are LS Manual, LS Automatic, 1LT Manual, 1LT Automatic, 2LT Manual, and 2LT Automatic.  First "log on to benedictdaily.com" question is do you want the convenience of an automatic or the fun and control of a manual. Besides being pure fun to drive the 2014 Chevrolet Spark has amazing EPA ratings at 31 city and 39 highway.
The 2014 Chevrolet Spark 2LT Manual FWD has a big package of exterior, interior and safety features which come standard. On the outside you get standard daytime running lamps, power door locks, remote keyless entry, and power driver side mirror. On the outside you get standard driver and passenger airbags, thorax side impact, and head curtain side impact. For safety you get standard four wheel ABS (anti-lock braking system), anti-theft system, tire pressure monitor, traction control system, and electronic stability control system.
This 'Quick Review' was brought to you by the Sheboygan Chevy dealer, located in Sheboygan, WI