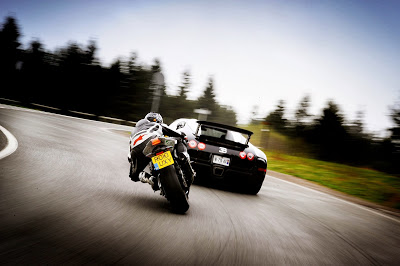 Motorcycles and cars are often pitted against one another in races from the Pikes Peak hill climb to challenges set up by auto magazines. Both types of vehicles have different strengths and weaknesses, making it hard to declare which is better suited for racing. Motorcycles are capable of accelerating rapidly, with a more optimised level of weight to horsepower ratio. They can also be more aerodynamic than many racing cars. However, cars have the edge in terms of a heavier down force and can take corners at much higher speeds, making them more cut out for the track. The following are five of the world's fastest bikes and cars for comparison.
The World's Fastest Bikes


1. BMW S100RR
A sport bike originally designed to compete in the Superbike World Championship; this BMW is now commercially available and powered by a 999 cc inline 4 engine. It is capable of reaching speeds of 190 mph.
2. Suzuki Hayabusa
Suzuki's fastest production sport bike, the Hayabusa is extremely aerodynamic for a rapid acceleration and the ability to handle high speeds with ease.
3. Kawasaki Ninja ZX-14
It's hard for any car to beat the acceleration time of 0-60 mph in 2.5 seconds that the lightning-fast Kawasaki Ninja is capable of producing. Swift, sleek, and powerful, this motorcycle can also hit a top speed of 186 mph.
4. Honda CBR 1100XX Super Blackbird
A sport touring motorcycle, the Super Blackbird is comfortable enough for the long haul but also built for rapid acceleration and speed. In building the Blackbird, Honda was attempting to build the world's fastest motorcycle for production.
5. Yamaha YZF R1
This motorcycle can accelerate at extremely rapid speeds, and hit a top speed of 176 mph. Although designed for use on the street, this one truly feels like a racing motorcycle.
The World's Fastest Cars


1. Bugatti Veyron Super Sport
It's hard to beat the power and speed of the Bugatti Veyron Super Sport, with a top speed of 268 mph. However, this is dampened to 257 mph for consumers due to safety concerns.
2. Koenigsegg Agera R
With 1,115 horsepower, the Agera R was designed to be the fastest car in the world. It theoretically has a top speed of 275 mph which would put it ahead of both car and motorcycle.
3. SSC Ultimate Aero
Designed by Shelby Supercars, the SSC Ultimate Aero made it into the Guinness Book of World Records as fastest manufacture car in the world for its top speeds of 257 mph, accelerating from 0-60 in 2.87 seconds.
4. Pagani Huayra
Although it will cost you over a million, the Pagani Huayra was designed for sale in the US, but it was denied by the Department of Transport due to its super speeds of 230 mph.
5. Lamborghini Aventador
The Aventador LP700-4 has a top speed of 217 mph and style to spare, with a 700-hp V12 engine and four wheel drive to boot. It can go from 0-62 mph in 2.9 seconds flat.
The Verdict
Bikes are lighter and hence will likely win in terms of acceleration, as you can see if you look at new models on Bikesales or any of these on the top five list. However, the world's fastest cars were built for race track performance and their heavier weight can make them come out ahead in this environment due to the down force and grip on all four wheels. Both types of vehicles excel in their own way and I am sure we can expect to see more motorcycle vs. car races in the future.