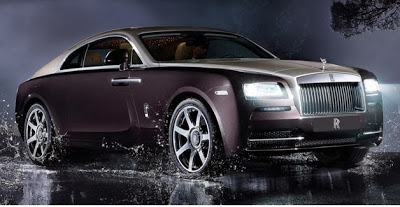 Wouldn't you love to own a Rolls-Royce? There is no doubt that I would! If anyone is in the mood to donate one to me, I will be sure to supply them with my address. I might even pay for the shipping charges! But all kidding aside, Rolls-Royce is one of those cars whose mystique transcends generations and automotive eras, trends and styles. Imbued with a cachet all its own, it has been the car of choice for kings, princes, maharajahs, celebrities and the extremely rich and powerful. There is no doubt that there are very few cars in the world that can convey that special blend of sophistication, power, luxury and style like a Rolls-Royce. And now, this famous British marque has outdone itself with its latest entry: the 2014 Rolls-Royce Wraith.

Powering a Legend
Introduced recently in North America, it is also going to be available in several other parts of the world. What makes this Rolls-Royce different from any other is the fact that it is the most powerful car that they have ever produced and is also the most technologically sophisticated. But these attributes in no way detract from the fact that it is every inch a Rolls-Royce, with all of the luxuries and sophistication that one would expect. As usual, the car is quite heavy, given all of the accouterments that it has to move. Regardless of the fact that it weighs in excess of 5,000 pounds, its engine makes it drive like a sports car. Going from 0 to 100 kilometers an hour in just over 4 seconds is not something that many cars can accomplish. But the Wraith has 12 cylinders and twin turbo chargers, with the whole ensemble producing 624 hp. With that kind of power, it Is easy to understand why this large car moves so nimbly.
If You Should Be Tempted
Befitting of a legendary brand, Rolls-Royce has dealerships all over the world, including Melbourne. Here, you can choose from the latest models, including the Wraith. Among the other two major models which are available is the Phantom, which comes in a variety of body styles, including a convertible model that is perfect for enjoying those Melbourne summers. There is also the Ghost (no, it will not turn you invisible), which comes in both a regular version and an extended wheelbase version, perfect for dignitaries or other people who expect just an extra touch of luxury.
When It's Time to Sell
Sadly, most of us will never be able to afford such a car. But fortunately, the modern car industry provides us with many alternatives, often more than just one model to meet every budget and requirement. If you're looking to buy a new car and want to sell your old one, you don't have to go through a complex process in order to get the best value for your car. You can get cash for cars in Melbourne rather easily. Such a service will provide you with a convenient and simple process in which you can be paid cash on the spot and be saved from all of the aggravation usually involved with trying to sell your car.