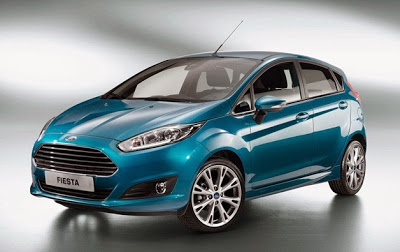 The UK's drivers have chosen their cars for the year, and as a result we have come up with the bestselling and popular new cars for 2013. With a combination of practicality, affordability and low running costs, the top five cars in this list are definitely worth a glance or two!
1. Ford Fiesta Hatchback
The Ford Fiesta has again gone unbeaten with first place as the bestselling car in the UK since it was released for its first full year in 2009. The popularity of this car is unsurprising considering its incredibly low running costs and reasonable price. Its fun and quirky diving experience also makes it an enjoyable drive, and starting at just £9,995 it's no wonder this car is ahead of all of the others in terms of affordability.
2. Ford Focus
The Ford Focus is another popular choice that has been high up on the list since its introduction in 2011. Being a bit roomier than the Fiesta, it is a popular choice for those needing the extra legroom and storage space. The safety of the vehicle is fantastic and the standard equipment it comes with is notable. Starting at £13,995 it is slightly more expensive than a Fiesta, but with the additional space and functions, this is bound to be expected.
3. Vauxhall Corsa Hatchback
The Vauxhall Corsa is a particularly popular choice for young drivers; again, being low on running costs and with a relatively cheap starting price at £8,995, is behind the draw. It doesn't drive as well as its rival the Ford Fiesta, but as it's cheaper the attraction for many is still there. It has a spacious interior despite its deceptively small size, providing great amounts of comfort and storage space.
4. Vauxhall Astra Hatchback
The Vauxhall Astra is one of the main competitors of the Ford Focus; at £12,995 it is cheaper, but lacks in comparative driver satisfaction. The comfort, however, is great for driving long distances and the interior characteristics are much better than its predecessor. The value for money with this car is undeniable, especially if you decide to choose one of the frugal ecoFLEX engines, as the running costs will be extremely low.
5. Volkswagen Golf Hatchback
The Volkswagen Golf is a highly popular car for both young people as well as families. Not only is the quality extremely high, the driving experience is enjoyable and, due to its efficient engine, the running costs will also be low. It may not have many changes from the generation before, but as they say, 'if it isn't broke, don't fix it'! Compared to the other cars, the Volkswagen Golf is a bit pricier at £16,775, but if you can afford to spend that little bit extra, you will probably find it is worth it.
Looking at the top five cars of 2013 so far, it's fair to say that drivers in the UK aren't just looking at price or driving experience. Rather, it's the whole package, including affordability and maintenance in the long run that's driving consumer choice.
This post was written by Ekta Mair, who after purchasing her new car, one of which is listed above, decided to go all out and fit it with brand new alloy wheels to improve its aesthetic appeal. She contacted Autopart UK who supplied her with high quality alloy wheels.