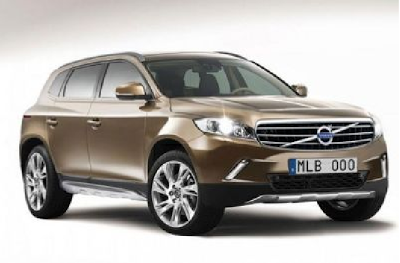 Volvo is investing a lot of time, money and effort into its green technologies, with an aim to reduce their fleet emissions by a significant amount by 2020. The first car that will kick start this ambition will be the Volvo XC90 'Twin Engine' plug-in hybrid, which has been confirmed for 2014.
With a release within the next 6 months likely, what can potential customers expect?
Well, it has been a few years now since the XC90 has been given an update. The next generation X90 will, for all intents and purposes, be an all new car developed to be better than ever. As such, the exterior styling will feature Volvo's latest design language, and the interior will mark a drastic step up in quality – the XC90 is the daddy of the firms 4×4 range, so we can realistically expect it to exceed the excellent XC60's interior.
Of course, a better interior and a new exterior design are a given. What's special about this XC90 is its power plant.
According to Volvo's chief of product planning, Lex Kerssemakers, a petrol powered XC90 complete with electric motor is in development, which will offer carbon emissions of just 50g/km, yet, it'll produce around 300 bhp and over 350 lb /ft of torque – essentially, this XC90 will be as fast as it is efficient.
"We have a 300-plus horsepower engine – at least 300 and the final "plus" we are still defining, as a basic engine. And then we get the electrification. So you end up with a 600Nm-plus car." said Kerssemakers, in an interview with Drive.
With the XC90 seeimingly paving the way for a green 4×4 industry, dealerships are naturally excited and eager to get this car on the forecourt. It will be available from Vertu Cars Volvo Derby, who have noted that this is one of the biggest releases for Volvo of the past 5 years.
Although a petrol engine combined with electric motor will produce in excess of 600Nm of torque, it is a diesel engine combined with electric motor that will suit the XC90 best – a diesel hybrid set up could see torque rise to an eye-watering 850Nm, or in other words, 626 lb/ft of torque.
Volvo is also said to be engineering a number of all-electric prototypes for the future, with an emphasis on all-electric power plants for its smaller cars, such as the V40. Electricity is, of course, the future of motoring as we know it, and therefore this seems like a logical progression after they have fully researched, engineered and produced hybrid powered vehicles.
Overall, the XC90 looks like a very interesting car. It will be interesting to see how well it sells here in the UK.