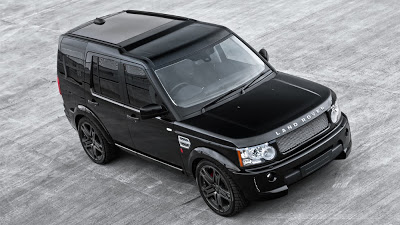 The Land Rover Discovery is already a fantastic off-roader, but with some alterations from Kahn Design it's become a luxury turbo-charged wet dream for any discerning petrol head.
Kahn, who are one of the market leaders in the field of bespoke vehicle design, have outdone themselves in their stylish and restrained additions to Land Rover's latest model, creating the Discovery Twin Turbo XS-RS300.
On the outer chassis of this luxury vehicle there is now a RS front grille with 3D mesh and heightened front and rear wheels to give the vehicle more ground clearance, along with LED light strips fitted onto the wheel arches.
But, the cabin is where the action's really at, with an astonishing array of bespoke features, including a luxuriant clock bezel surround finished with Swarovski diamonds, for those looking to add a little bit of bling to their drive.

The inside of the car also features seven seats covered in quilted and perforated leather and a full multimedia entertainment package, which features two six-inch LCD screens, a multi-region DVD player, two infrared sets of headphones, an infrared remote control, and USB and SD card connections.
It all adds up to an extravagant look in an already impressive vehicle, creating the feeling and style of a car that you really want to be seen riding in.
The celeb appeal of the Land Rover
It's been the case for a while now that the Land Rover brand has moved past the simple pleasures of the Land Rover Discovery 1 in favour of more extravagant affairs that appeal to the affluent as well as the adventurer.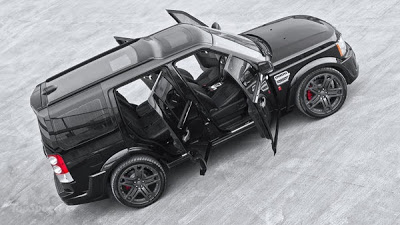 Indeed, the celebrity appeal of the Land Rover has been on the up and up as of late, with this sturdy and bullish looking vehicle proving the perfect fit for A-list stars such as Brad Pitt, Daniel Craig and Prince William, to name but a few.
And, it seems that the decade old Kahn have found the ideal way to capitalise upon this, with the bespoke design of the Discovery balancing opulence with practicality at every turn, providing a series of alterations that are subtle and sleek, rather than the garish homespun creations of the boy racer.
It takes what was already a veritably comfortable ride and turns it into an outright luxurious one, with the standard look and feel of the Discovery amped up to create a masterfully tuned piece of driving kit.
Coming in at a hefty £54,000, Kahn's altered version of the vehicle is hardly cheap, but with a series of changes that add both aesthetically and functionally to the standard Discovery, it's well worth an investment for those looking to make their Land Rover that little more flash.