Back in 2012 I was given the opportunity to drive the McLaren MP4-12C around Killarney in Cape Town and last year I was afforded the opportunity to drive the Spider version. I absolutely loved both of the drives in these cars but this week I had a Volcano Red McLaren 12C Coupe all to myself for the whole day thanks to Daytona Group.
This particular car is part of their pre-owned section but to be honest, when you sit inside the carbon fibre monocell, this is the last thing on your mind. It is immaculate inside with absolutely no sign of wear and tear so the 12000 km odometer reading is irrelevant. The leather interior still smells new, there is lots of carbon all over the show and it has been given the IRIS upgrade which means the infotainment system is Android based.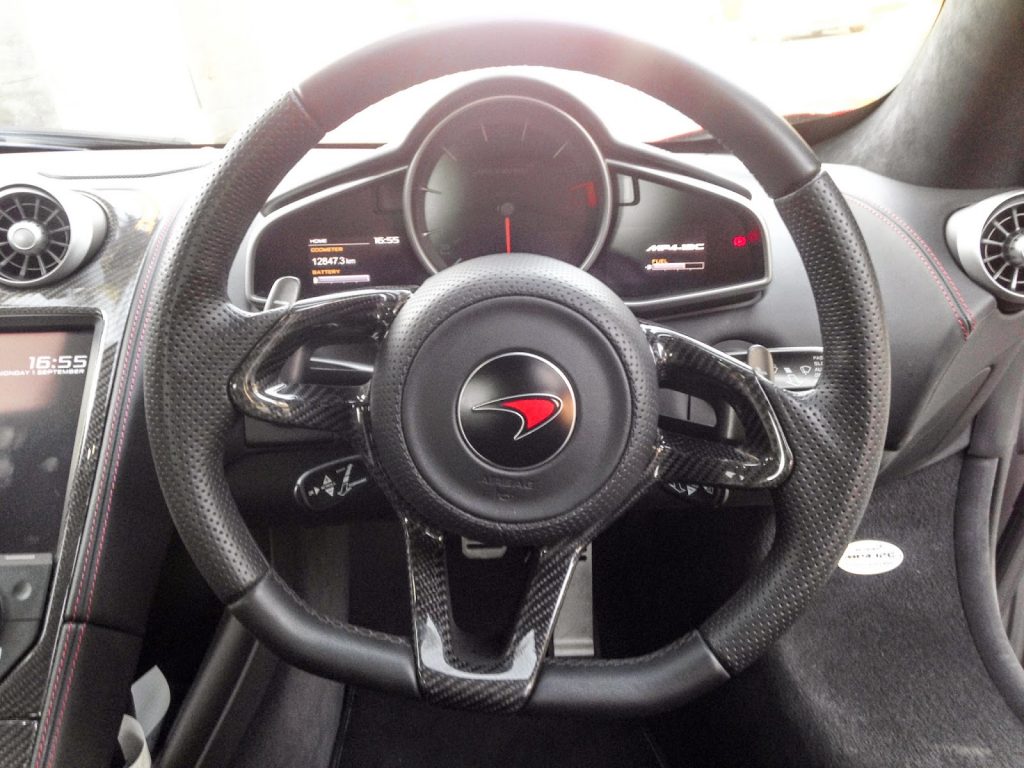 Driving the car without 'Active Mode' active is blissfully easy. Gear changes are smooth (both up and down), suspension is soft enough not to bounce your jaw and the exhaust note is so quiet, you can barely hear it when cruising along the roads. We all know that is not why I tested the car because after all it is one of the most rapid supercars that money can buy. After a short stint driving in 'normal' mode, I switched on the Active Mode, turned the Power knob to T for track and had some fun.
On the console, you get the 'Active' button to switch it on and off and then you get two rotatable knobs. One is labelled 'H' for handling and the other is labelled 'P' for power. On these knobs you have three settings for each; N, S and T which stand for normal, sport and track respectively. Being the person I am, I immediately shifted the Power knob all the way to Track and the car turns into an absolute animal. 0 to 100 km/h takes just 3.0 seconds and if you continue to hold the power down, you will reach a top speed of 325 km/h. What surprised me with the car is how rapid it changes gears and in doing this it still manages to give you a little kick in the back which I have come to absolutely love.
One of the best parts about Track mode is the noise the exhaust emits. At idle when you switch over to track you can hear the V8 burbling much louder. At full taps, even with the twin-turbos, you can still hear that distinct V8 soundtrack which makes the experience that much better. After I got used to the car in Track power mode, I flipped the handling knob to track too to see how it got on and this is as close to zero driving aids as you will get. If you jump on the brakes, the airbrake pops up at the back but you need to be very cautious with your acceleration because traction control is pretty much non-existent in this mode. Track mode for both power and handling is better kept for the track (obviously).
Not many people get the opportunity to drive one of these in their lives and fewer get to own one but the reaction from people on the road is just epic. This is not sleeper. This is a full blown supercar and it attracts the attention of every single person on the road, car lover or not. People not even remotely interested in these four-wheeled machines were snapping photo's by the dozen and I was asked multiple times to open and close the door so they could see the brilliant butterfly doors in action. Owning this car is an experience and a privilege and I hope one day I can be a part of this too.
This exact car is for sale through Daytona Group and McLaren SA for R 3.0 million. It is a 2012 McLaren 12C Coupe with just over 12000 km's and if you contact Grant (grant@mclarensa.co.za / 011 301 7000), finance can be arranged and trade-ins are welcome. See more pictures here.
To keep in touch with McLaren South Africa, give them a follow on Instagram, @McLaren_SA.