Polestar is Volvo's official racing/performance partner. They've been upgrading Volvos for the racing circuit since 1996.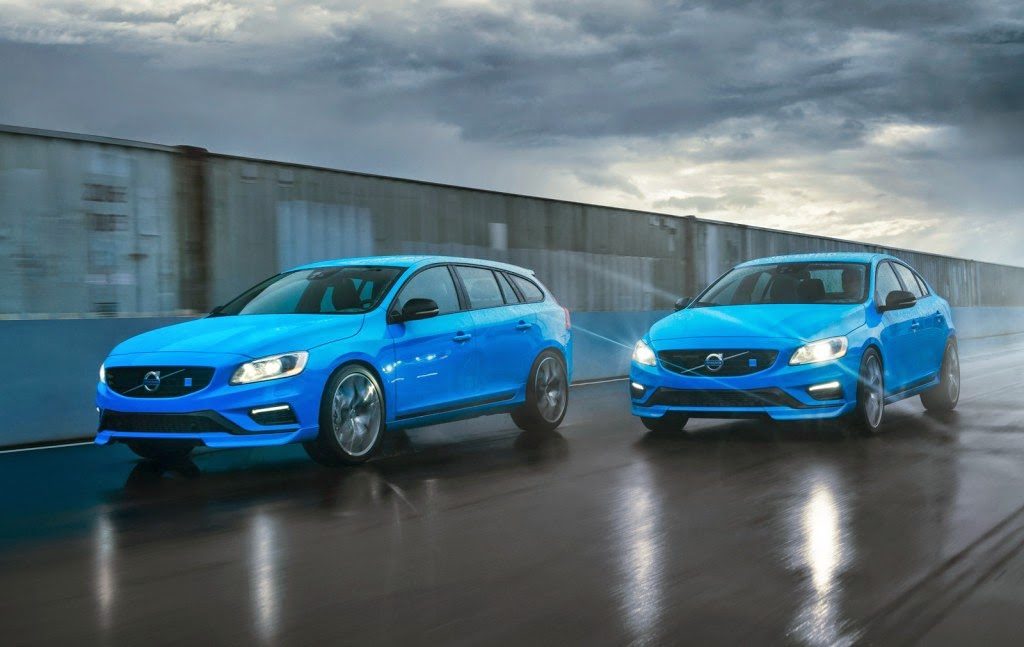 For Polestar, 2015 is the year of the Volvo S60 and V60. The S60 is a sleek sports sedan that doesn't sacrifice power, despite its class-leading fuel efficiency. The V60 is a luxury sports wagon, with the same commitment to power and fuel efficiency. Both vehicles feature Volvo's innovative Drive-E technology, which according to Volvo's website:
"Drive-E technology gives you the fuel economy of a 4-cylinder engine with virtually all the power of a 6-cylinder engine. So, you get fewer trips to the pump, lower carbon emissions, and all the power you'll ever need."
Making Upgrades and Increasing Power


Polestar's engineering team recognized that simply increasing horsepower (hp) wasn't enough to get these luxury Volvos ready for racing. The team focused on improving chassis and suspension, as well as upgrading the shock absorbers. Using Öhlins' Dual-Flow Valve technology, the car's suspension systems can now withstand serious impacts.
Tires have been upgraded to 20-inch Michelin Pilot Super Sport 245/35 ZR20. The upgraded suspension's second valve helps ensure that these tires return to the ground after an impact. And the tire's dampers feature 10-settings, so adjustments can be made quickly. According to Auto Week, "Polestar recommends that adjustments be made when the car is up on a lift," but it is possible to make "minute manual adjustments."
Also, the hp was increased from 325 hp at 5600 rpm to 350 hp at 5250 rpm. Although those numbers aren't drastically different, the other upgrades will prove Volvo's newest racers are a force to be reckoned with.
Other upgrades include:
• Improved breaks: bigger front discs and six-piston Brembo calipers
• Improved four-wheel-drive
• Improved traction-control
• Added rear spoiler and diffuser
• Redesigned front splitters
• Interior design improved with racing seats, and a leather steering wheel
Tuning Your Volvo


Anyone can tune a Volvo – if they have the know-how. It's not recommended to make upgrades to a new car if you haven't been trained to. (If you're a novice, it's best to practice on an older model vehicle that didn't cost you a lot of money.) However, if you've got the time and training, it's possible to upgrade your Volvo from grocery-getter to racing-ready.
It's helpful to look for Volvo parts online, where you'll be able to use a vehicle selector to select your Volvo's make and model. Browse the warehouse to determine which parts offer the best performance improvements to your vehicle, and then purchase accordingly. It is possible to find aftermarket Volvo parts, as well as genuine and OEM parts.
Tuning your Volvo can improve the vehicle's speed, as well as increase the vehicle's safety. (Volvos tend to come with a number of safety features, but older models may require an update.) It's also possible to update radios to touchscreen media players with AUX ports, and other such novelties (if your vehicle is a bit outdated). Overall, you can make any updates you deem necessary because there's plenty of parts available to do so.
Polestar Performance Upgrades
Polestar offers performance upgrades, but they can be pricey. For an additional charge, buyers can purchase Polestar engine tuning, as well as integrated software that improves turbocharge boost, as well as re-calibrates throttle-response and increases turbocharger boost pressure. If you're capable, avoid the cost by making these upgrades yourself. If not, the option is there and it doesn't void your warranty.