Nissan has created the world's biggest working Zorb, complete with a full-sized Note safely cushioned inside. The giant inflatable ball, which measures six meters in diameter and more than 18 meters in circumference, was constructed to highlight Nissan's Safety Shield technology featured on the Nissan Note, its popular small family car.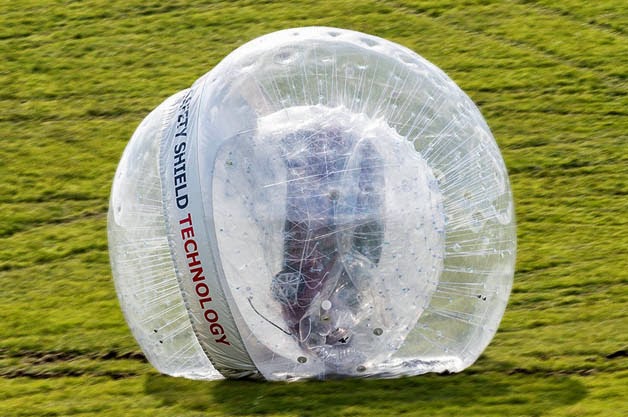 Originating in New Zealand, Zorbing sees thrill seekers roll downhill inside an orb, made of strong wearing inflatable plastic. The Zorb is usually made of two inflatable layers, shielding the individual inside from outside dangers. The CarZorb took more than two months to build and weighs more than a ton on its own.
Nissan's inspiration for the stunt is a joint celebration of the latest Note's first birthday and its Safety Shield technology suite, which brings premium-class safety features down to a super mini size car. It is packed with innovative technology designed to make driving safer. Lane Departure Warning, Blind Spot Warning and Moving Object Detection combine to form the Nissan Safety Shield. This unique package is powered by 360° Around View Monitor technology which relies on the unique self-cleaning rear camera – an innovation already breaking new ground in the segment.
Vice president strategy and marketing at Nissan, Bastien Schupp said, "The Nissan Note has been carefully engineered to provide motorists with a whole range of technology that creates a protective bubble around you and your car.
"Our Safety Shield technology in particular is unrivalled amongst other small family cars. Creating a life size CarZorb to highlight the technology is an exciting and memorable way of reminding people about the benefits of Nissan's Safety Shield."
It's all clever stuff, but perhaps not as attention grabbing as a huge engine or Pininfarina-designed body, hence the outlandish bubble. Nissan constructed the Zorb out of plastic and then inflated it around the car, until it measures six meters in diameter.
Source: Kayser Nissan