To be brutally honest, this is the first Volvo I had ever driven. I went in a Volvo as a young boy and I loved it because it had proper performance in those days so when I was handed the keys to their hot little number I was rather excited.
I was given their V40 T5 and before I got inside the car I had a look around the car deciding what I thought about the styling. What struck me immediately was the contrast between the rear of the car and the front. At the back the car looks modern and almost space-age with its big curves, indents and sharply shaped lights but at the front it looks like the designers got a bit lazy (especially with the headlight design) as it looks less intimidating and more… well boring. This car can most definitely enter the hot-hatch zone but with out the R-Design package it most certainly does not look the sporty part.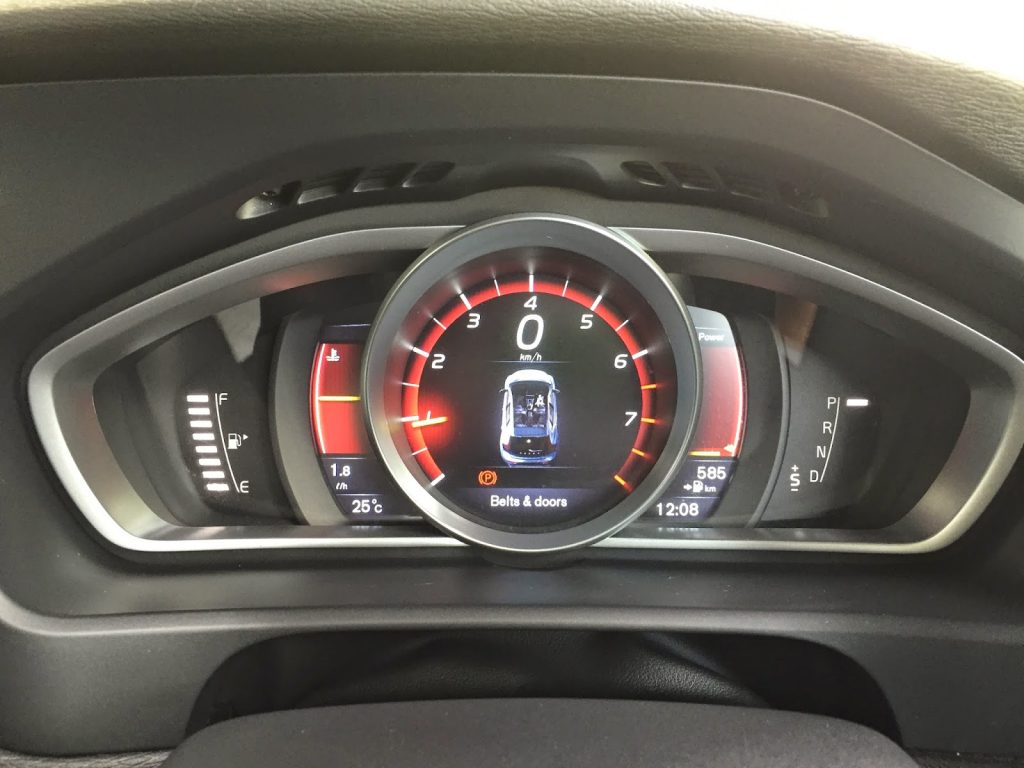 Inside the car you find a digital dashboard with neat colour changing features depending on what mood you are in (see video below) and the on screen menu is extremely easy to navigate. The center console looked a bit dated to me with all the buttons you have on your cellphone but the infotainment system has a whole host of features albeit a bit stark to look at. Space inside is more than you would think and when you are behind the wheel with 2 people sitting directly behind you with ample space it feels more like a sedan.
This particular model packs 187 kW of power (250 horsepower) and is capable of throwing it to 100 km/h from stand still in a claimed 6.9 seconds which I personally think is being conservative as it feels faster than that. The car is extremely comfortable to drive at low and high speeds and is possibly one of the easiest-to-drive cars out there when cruising around the city. The throttle response is damn good and the steering is precise and light. One thing I did notice was the very poor turning circle. This struck me as strange as I have driven some properly mental high-performance machines and I never noticed a bad turning circle. I constantly found myself entering a parking spot more than once as I completely misjudged the turning capabilities of the car. The brakes are more than good enough for the performance of the car but you will need to get used to them as they are rather quick to bite. Just like the Astra OPC I recently drove, the Volvo V40 T5 does not come with paddle shifters and this will deter almost all boy-racers from purchasing one.
As you would expect from Volvo, there is a plethora of safety features both active and passive. The V40 T5 comes standard with City Safety that automatically brakes the car up to speeds of 50km/h if the driver fails to brake; a blind-spot warning system (BLIS) that warns you if there is any vehicle creeping onto your blind spot area; and a Cross Traffic Alert that assists the driver to cross from the side when reversing out of parking space. Base price in South Africa is R427,500 which is not exactly cheap and many people will rather find a demo Golf VII GTI but there are the Swedish lovers out there and to be frank this car is a really really good car to drive. A simple test drive will push this point home.
CON's:
Front styling
Turning circle
No paddle-shifters
PRO's:
Gearbox
Dashboard
Ease of driving
Space inside