We knew that the car would arrive in South Africa sometime and we also knew that the car would have a launch at their magnificent new showroom but we never knew it would be so soon which is fantastic. This car has only been seen by a handful of select clients and markets and the South African launch is probably only the third or fourth launch worldwide. I could not wait to see what their new twin-turbo V8 supercar looked like and I was most certainly not disappointed.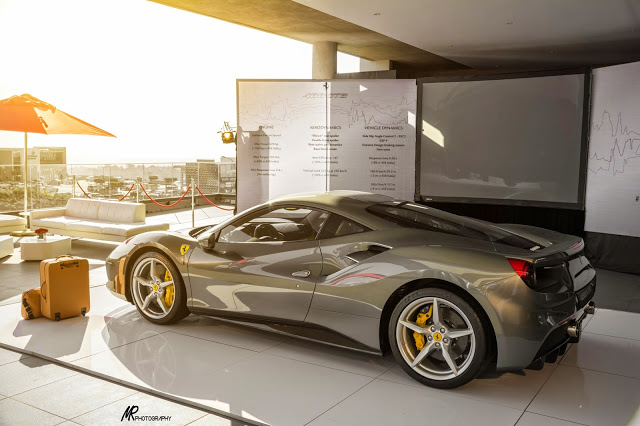 When the covers came off the first thing you notice is the very many swooping and sleek lines of the car. Every single one of these lines are spot on and they all serve an aerodynamic purpose. The power of the car comes from a 3.9-litre twin-turbo engine which is coupled to a seven-speed F1 dual-clutch gearbox with Variable Boost Management (optimally distributes torque). Ferrari assurred us that even though the car is now turbocharged, you will still be accompanied by a deep, seductive soundtrack. The Ferrari sound.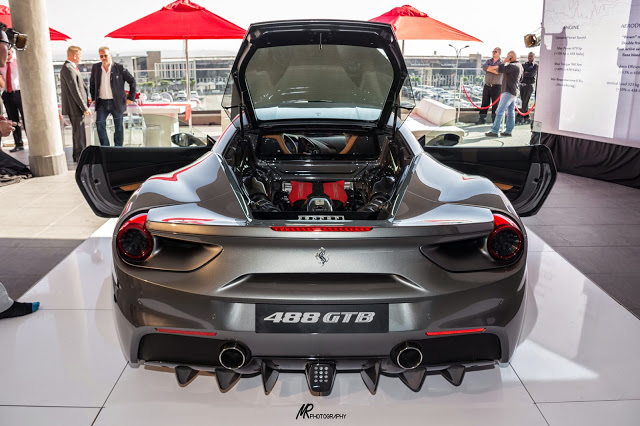 Other than turbocharging the engine, the most significant improvements on the car would have to be the revolutionary aerodynamics. At the back there is a blown rear spoiler which channels air over the engine cover and through a gap at the back causing the car to be sucked onto the road. There are channels all over the car and you can see the air outlets at the back in the center and next to the rear lights. This car now produces 325 kg of downforce at 250 km/h but at the same time the 488 GTB has a drag co-efficient of just 1.67 which is a record for a Ferrari.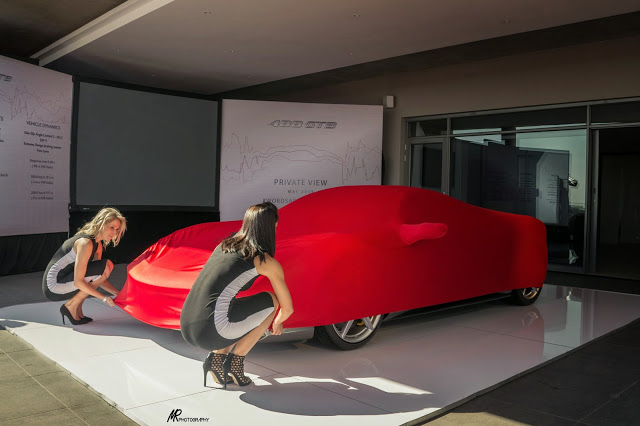 The dynamic vehicle controls of the car have also evolved with Side Slip Control System (SSC2) which now integrates with the car's dampers as well as the F1-trac and E-Diff systems. This is pretty much to allow non-professional racing drivers to explore and exploit the full potential of this supercar. The show car was finished in a colour they call Grigio Ferro Met and the interior was plastered in black and Beige Tradizione.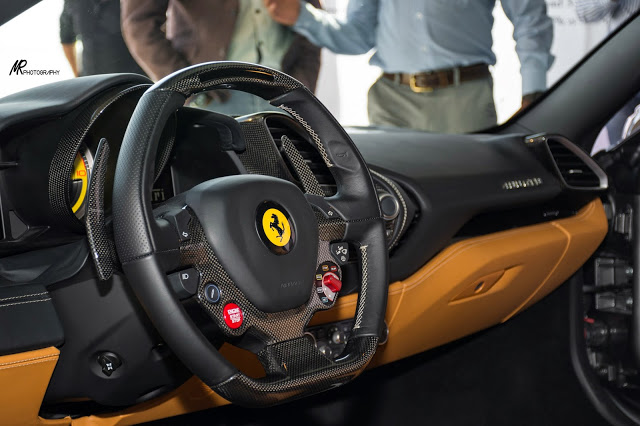 The numbers:
V8
3902 cm3
492 kW
760 Nm
1370 kg
0 to 100 km/h in 3.0 s (will probably be faster than this)
0 to 200 km/h in 8.3 s
11.4 l/100km
No price was given but I would think a base price of R4.2 million would be a fairly accurate guess.
Thanks to
MR Photography
for capturing some stunning shots of this car even with the sun playing games with the light. See the full album on
Zero 2 Turbo Facebook page
. Thanks to Scuderia South Africa for inviting us along to see this exceptional car and for putting on a great event as always!