It's no secret that Audi have built some of the fastest and most iconic hot hatches in history. My personal favourite is the Audi Quattro, and I'm willing to bet there's one you like a lot too.
Keen to capture new markets, Audi have only gone and built a high-performance version of the A1! Yes, that's right; there is now an Audi S1 available to buy! If you're looking for a new hot hatch that offers a touch of luxury, the Audi S1 is the car for you.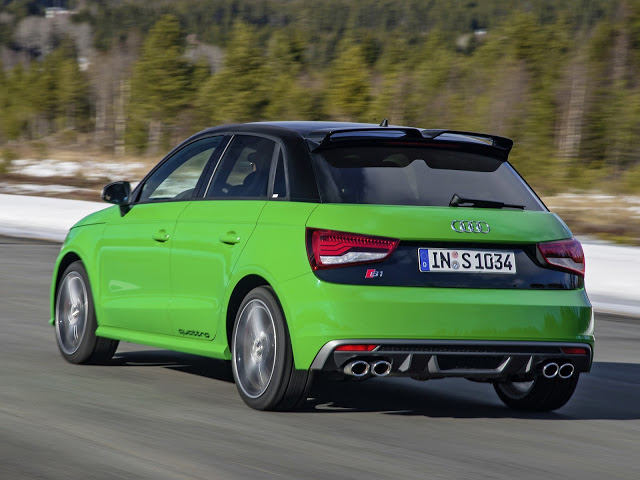 So, why should you buy that car over something like a Volkswagen Golf GTi, for example? Let's explore the major selling points of Audi's baby high-performance vehicle:
It's only available with a manual gearbox
These days automatic transmissions are commonplace. It's not just car makers like BMW that use them as standard in their vehicles. You'll often see them in various makes of car. That's because they are a way of making driving more "greener."
But, there's no DSG in sight with the Audi S1! Instead, you've got a six-speed manual transmission to play with in that car.
Some of you might be thinking it's so that the model's more appealing to younger drivers. The actual reason is to do with the four-wheel drive system. Because the S1 is a compact car, there wasn't enough space to shoehorn a DSG. 
It's something of a sleeper
From the outside, the Audi S1 might look like a tarted-up hatchback. To the untrained eye, it might appear to be a customised A1. But, under the bonnet, you'll soon discover a car that is more like a wolf in sheep's clothing!
As standard, the Audi S1 comes with a 2.0-litre TFSI power plant. It boasts 227 brake horsepower, and will get you to 60mph from a standing start in just 5.6 seconds. The top speed of the Audi S1 is 155 mph.
It's not too bad on fuel
I know what you're thinking. The 2.0-litre TFSI engine isn't going to be a frugal unit with green credentials, right? Well, it might surprise you to learn that it's not as bad you think!
The Audi S1 offers a combined fuel economy of 40 MPG. That means if you drove the car and never pushed it to its limits, you won't be filling up the tank with petrol so often.
It also boasts carbon emissions of 162 g/km. In some parts of the world, car tax gets charged according to its CO2. What that means for you is you'll pay less for your vehicle tax!
It's got a reasonable price tag
Depending on where you are in the world, the Audi S1 isn't as expensive to buy as you might think. Still, it's not as cheap as an entry-level VW Golf, for example. So, you'll still need to sell your car on AutoTrader before you can afford to buy one!
But, the Audi S1 isn't a car aimed at the budget hatchback market. It has its sights on those that want a fun driving experience in a compact form. If that sounds like you, the Audi S1 will no doubt be your perfect car!