We all know how Maserati's GranTurismo symphonic V8 sounds but I recently had the chance to experience the hardcore MC Stradale and I have completely fallen in love. Simply put, this car would be in my top 10 dream garage without a doubt and I will briefly explain why below.
The first thing you notice when you see the car is the aggressive exterior compared to the 'standard' GranTurismo. At the front you get the marque's distinctive radiator grille topped by the long carbon fibre engine hood with its aggressive central air intake and two side air vents, derived from those used on the race-track MC Trofeo. The side skirts are more prominent and they work in conjunction with the slots in the front fenders to guide the airflow and create significant downforce. The back end of this car is where things get even more aggressive. The centrally located exhaust pipes are framed by a large diffuser which gives the car serious presence but nothing can compare to what comes out of those twin pipes.
This particular car was finished in Grigio Touring white with 20″ MC Design Grafite Opaco rims which gives it a classy but sporty finish. The interior of the car is comfortable and sporty with plenty of Alcantara but the console and dashboard seem a little dated compared to the rest of the car. I know this is not a big thing because in a car like this a radio / infotainment system is pretty pointless but it is about the only negative remark I have on the car so it is ok.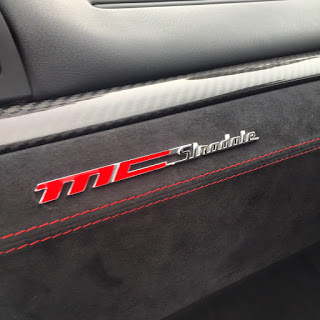 The unmistakable roar of this beast is thanks to the 4.7-litre V8 engine with a maximum power output of 460 horses at 7000 rpm and 520 Nm of torque at 4750 rpm but you only get this throaty bark when you have selected MC Race. The normal GranTurismo offers you five handling/driving modes but the MC Stradale offers just three. Auto, Sport and the impossible not to engage mode called MC Race. Auto mode is the most sensible option to choose and you can cruise along in traffic and busy roads with ease although even with gentle acceleration, the single clutch system still let's go before gently pushing you back into your seat. I can only imagine that getting slightly irritating over time so rather just leave it in MC Race! This mode is unique to the MC Stradale and is activated by pressing the "Race" button on the dashboard. This is all it takes to make the car insanely loud and give lightning-fast gear shifts in just 60 milliseconds. The way this car shifts is what makes it special. It is so harsh when giving it the beans that you feel like you are driving a full blown race car. Some people will not like this but I absolutely love it.
You just cannot get enough of flicking through the gears with that aural heaven blasting out behind you (listen to the YouTube clip at the end of this post) and I challenge anyone who ever gets to drive or own one of these to try stay out of the hardcore MC mode. It is impossible!
The 0 to 100 km/h sprint is dealt with in 4.5 seconds but in this car you don't really care how long it takes you to get to the 100 km/h mark. It is a car with so much rawness and theatre that the last thing on your mind is how fast you can get it to go. If you do want to open her up however, you will reach a top speed of 303 km/h.
This particular car is for sale through the Maserati Johannesburg dealer for R2,200,000 and if you ask me, that is not a lot to ask for a lot of car. This car is the new-spec MC Stradale and after the one that crashed in Cape Town was written off makes this only the 2nd car in South Africa.
PRO's
Incredible sound
Harsh gearchange
Aggressive looks
CON's
Slightly dated interior / dash